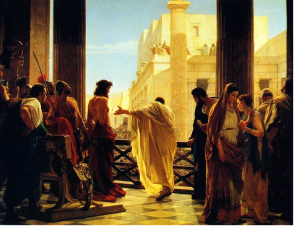 "Pilate then went out again, and said to them, 'Behold I am bringing Him out to you, that you may know that I find no fault in him." (John 19:4)
History has not been kind to Pontius Pilate. He was prefect of Judea from AD 26-36, but ultimately was recalled to Rome in disgrace by Emperor Tiberius after his brutal suppression of an uprising among the Samaritans. The Roman historian Eusebius recounts that, after the death of Tiberius, Caligula banished Pilate to Gaul and that he ultimately committed suicide in a lake in Vienne.
But these other incidents in his ignominious life pale beside the events that he is most remembered for. History would barely remember him at all, except for his role in the trial and crucifixion of Jesus. The gospels portray him as not wanting to order the execution, but that he capitulated to the will of the mob incited by the Jewish religious leaders.
Many, therefore, have regarded him as sympathetic to Jesus — perhaps even personally affected by the Lord as He stood before him — but a coward who didn't have the courage of his convictions.
I wonder if that's not reading too much into the story. [Continue reading]