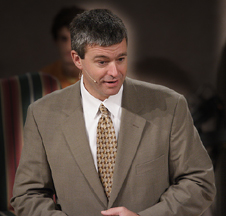 A list like this, of course, is very subjective, and I hasten to add that this is not some "fan" list; I do not wish to adulate or idolize these men. They are simply preachers that I find consistently helpful – they encourage my spiritual growth.
I also set the criteria for this list that they had to be currently active preachers.
If I were considering preachers in print, my all time favorite would be "The Prince of Preachers", Charles Haddon Spurgeon, followed closely by a slew of 17th Century Puritans.
If I were considering preachers you can still get audio for, but who are no longer preaching, the list would be headed by Dr.Martyn Lloyd-Jones, and would include such legends as Adrian Rogers, Stephen Olford, Leonard Ravenhill, Alan Redpath and Vance Havner.
Disclaimers aside, here's my current list:
1. Paul Washer.  Don't listen to Washer if you want a fuzzy, feel-good, message to tickle your ears. He is a clarion voice challenging the issues plaguing the church today. His sermon "10 Indictments" was possibly the most impacting message of the last couple of years; a kind of "shot heard around the world".  You should also watch his address a few years ago at a Youth Evangelism Conference.
2. John Macarthur Jr. One of the finest expository preachers in the world today, and through The Master's Seminary he has been at the forefront of a resurgence of the craft, inspiring a whole new generation of young preachers to be committed to Biblical preaching.
3. Alistair Begg.  Brilliant insights into Scripture with a disarmingly personable style. And you just have to love his Scottish voice.
4. Ray Comfort.  What a humble servant of God. Comfort has stayed on message for years now, and the result is a whole movement of young evangelists committed to taking accurate and passionate gospel preaching to the streets. His sermons, "Hell's Best Kept Secret" and "True & False Conversions" are MUST listens.
5. Jim Cymbala.  Living just an hour out of New York City, we have the privilege of being able to get to Brooklyn Tabernacle a few times each year for their Tuesday Night prayer meeting. Over 3000 people gathered midweek to pray! Cymbala's preaching is intensely pastoral, and he never fails to bring a rich sense of God's presence as he speaks. His sermon at "The Gathering" a few years back has been watched around the world.
Honorable mentions go to John Piper and Carter Conlon.
I'd love to hear any names you might include on your own favorites list. Leave a comment.
Phil
P.S. Get the fascinating docudrama "C.H.Spurgeon: Prince of Preachers"