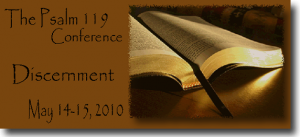 This will be an AWESOME conference!  Speakers include: Todd Friel, Peter Hammond, Phil Johnson, Justin Peters, Paul Taylor, Emilio & Trisha Ramos.  (PLUS music by Go Fish)
Our friend Trisha Ramos is giving away 2 Free Tickets. Check it out at her website HERE.
The conference will be held May 14th-15th in Keller, Texas.  More details are also available on the Wretched Radio Website.
Phil