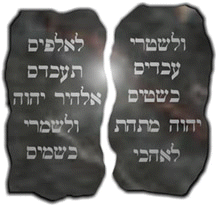 by Kurt Michaelson
"Wherefore the law was our schoolmaster to bring us unto Christ, that we might be justified by faith." Galatians 3:24 (KJV)
What the Law Reveals
The Law reveals how utterly helpless humanity really is compared to the standard requirements that it contained, to live holy and righteous before God. It also reveals for whom it is intended, which it is certainly not for good people, but for sinners: "the law is not made for a righteous person, but for the lawless and insubordinate, for the ungodly and for sinners, for the unholy and profane, for murderers of fathers and murderers of mothers, for manslayers, for fornicators, for sodomites, for kidnappers, for liars, for perjurers, and if there is any other thing that is contrary to sound doctrine," (1 Timothy 1:9-10).

The inevitable destruction of the soul having to face the wrath of God because of his or her sin should be the imperative cry not just from the pulpit, but from every believing Christian. What should not be said, or used, is a presentation of benefits as an attraction of some sort to win someone to Christ and find salvation in Him. This, is hardly the attitude that should be witnessed to a world of people that will one day stand before a just and Holy God.
When Jesus was approached by the rich young ruler concerning what he could do to inherit eternal life, Jesus pointed him to God's commandment's (Luke 18:18-23) and He used the Law saying (v.20), "Do not commit adultery, Do not kill, Do not steal, Do not bear false witness, Honour thy father and thy mother." 
This man's attitude, thinking he could do something to inherit eternal life is not an uncommon belief among many in our present day and Jesus proves to him and to us that inheriting eternal life is not something to gain by doing, but by faith in Christ.
Yet the omniscience of God knew the true and deeper motive that kept this man from inheriting eternal life and that was his wealth.  Having just said, "All these things I have kept from my youth" (v. 21), Jesus pointed out what was lacking and what he needed to do, if he truly wanted to inherit eternal life and that was to sell it all, distribute it to the poor and then to follow Jesus (v. 22).
Jesus dealt with the root issue of this man's life, which was his love for the abundance of wealth found in his material possessions.  Jesus told him to give it away if he wanted to be truly rich, but hearing such made him sorrowful realizing that he could not depart from what he had accumulated and loved, likely all more than God and was likely an idol to him too.
When a person's conscience is made aware of this in their own life that by what they have done separates them from God and they cannot do anything to earn their way to heaven, it should make them run quickly to the cross and hold on for dear life and eternity, knowing the peril that awaits their soul by the hand of the living God that so patiently waits for each one to repent, not willing that any should perish (Hebrews 10:31; 2 Peter 3:9).
 
What is Gained Through the Christ
The positive end result is justification and according to Easton's Bible Dictionary, this …
"is the judicial act of God, by which he pardons all the sins of those who believe in Christ, and accounts, accepts, and treats them as righteous in the eye of the law, i.e., as conformed to all its demands. The sole condition on which this righteousness is imputed or credited to the believer is faith in or on the Lord Jesus Christ."
Jesus Christ is the fulfillment of the Law (Matthew 5:17) whom has fulfilled everything that any man or woman could never be able to uphold before God. The justification of sin, by grace through faith in Jesus Christ is the only way in which a person can be completely exonerated from the penalty of the wages of sin, which is death (Romans 6:23).
 
God completely removes the penalty of sin, the guilt associated with it and pardons any man or woman, through repentance, by grace through faith in the atonement of Jesus Christ on his or her behalf.  How could this not be good news?!
 
We would do such a great honor to God, to be a witness for Christ and use the Law in the same lawful manner as He did, in our own personal evangelism.  Those ordinances that had been exceedingly unattainable by us was now accomplished and now opened the way for us, to come to God through Christ when He was nailed upon the cross (Colossians 2:14). 
Jesus Christ did what no man or woman could ever do, which was to perfectly uphold the entire Law of God.  This truly is good news!
 
May these words written by King David be encouraging to all who desire to seek and save the lost as Jesus did regarding the effective use of God's Law and evangelism:
"The law of the LORD is perfect, converting the soul: the testimony of the LORD is sure, making wise the simple." (Psalm 19:7)
---
– Kurt Michaelson is currently a student at Alliance Theological Seminary in Nyack, NY. and serves as a pastoral intern at First Assembly of God, Brookfield, CT. He's married to Kristi. You can read more of his articles on his blog, Ambassador for Christ.
---
For more on the role of God's law in converting sinners, see these other blog posts: