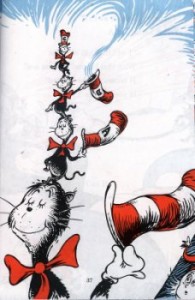 "Thanks be unto Godforhisunspeakablegift." (2 Corinthians 9:15)
As the Apostle Paul is making an appeal to the church in Corinth for a generous offering to help the church in Macedonia, he is all of a sudden struck again by the thought of the unmatched generosity of God toward us. Verse 15 is an outburst. An exclamation.
The word "unspeakable" literally means "unexpounded". Paul is not saying that what God has done for us shouldn't or can't be talked about, or that it is impossible to ever put into words. He is saying that the fullness of what God has given us in the sacrifice of Jesus has never been fully elaborated on. There is so much to what God has accomplished in His plan of redemption, that the riches of it keep on appearing; keep on unfolding.
I used to love to read The Cat in the Hat Comes Back to our kids at bedtime. You remember that story by Dr. Seuss?
The cat returns to visit Sally and her brother, and this time he has under his hat Little Cat A.  In turn, Little Cat A removes his hat to reveal Little Cat B, who in turn reveals C, and so on down to the microscopic Little Cat Z, who turns out to be the key to the whole plot.
Or if you don't know that story, maybe sometime you played that old trick of putting a small but precious gift inside lots of different size boxes for a loved one to surprise them? Every time they open a box, there's another one inside it.
If all we had received in the gospel was salvation from our sins, that in itself is a staggering and priceless gift. God would deserve our thanksgiving continuously and forever for that alone. But listen to Romans 8:32 …
"He who did not spare His own Son, but delivered Him up for us all, how shall He not with Him also freely give us all things?" 
This verse is saying that the hats just keep on coming! Unwrap one box, and there's another and another.
In giving us His Son, God has given us the inexhaustible answer. Our total supply for our total need for all of time.
A true story is told of a millionaire who had a portrait of his beloved son painted before the son went to war. He was tragically killed in battle, and shortly afterward, the heartbroken millionaire died.

His will stated that all his riches were to be auctioned, specifying that the painting must sell first.

Many showed up at the auction, where a mass of the rich man's wealth was displayed. When the painting was held up for sale, there were no bids made. It was an unknown painting by an unknown painter of the rich man's uncelebrated son, so sadly, there was little interest.

After a few moments, a butler who worked for the man remembered how much the millionaire loved his son, decided to bid for it, and purchased the portrait for a very low price.

Suddenly, to everyone's surprise the auctioneer brought down his gavel and declared the auction closed. The rich man's will had secretly specified that the person who cared enough to purchase the painting of his beloved son was also to be given all the riches of his will.

This is precisely what God has done through the gospel. He who accepts the beloved Son of God also receives all the riches of His will, the gift of eternal life and pleasures for evermore. They become joint heirs with the Son (Romans 8:16-17).  [Taken from The Evidence Bible, p1623]
Today, speak to yourself and stir up your own soul to praise God, like the Psalmist did in Psalm 103,
" Bless the LORD, O my soul; And all that is within me, bless His holy name! Bless the LORD, O my soul, And forget not all His benefits: Who forgives all your iniquities, Who heals all your diseases, Who redeems your life from destruction, Who crowns you with lovingkindness and tender mercies, Who satisfies your mouth with good things, So that your youth is renewed like the eagle's." (Psalm 103:1-5)
Phil