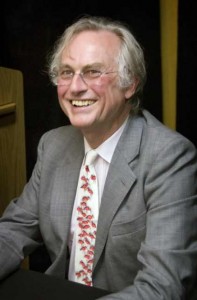 Richard Dawkins, the champion of atheists everywhere, has always ridiculed any notion of God. He claims everything that exists has come about only through evolutionary processes. In other words, nothing produced everything. (Although he is willing to entertain the idea that the human race was "seeded" here by a higher alien life form.  Go figure!  He can't stand the thought that an almighty Creator God gave us life, but being related to apes or E.T. is fine.  See Romans 1:18-22)
So, in his view, we are merely another evolved species, no different from animals except perhaps in degree of evolved intelligence. There is no great Creator to whom we are responsible and must give an account.  So he says … loudly and often.
But has he just tipped his hand?
Over the past few weeks he has had a little bit of a run in with some of his atheist admirers.  On his website, RichardDawkins.net, he has had a very active forum which has been frequented by atheists from all over the world, chatting together about what they DON'T believe in. (Strange pastime. A case of "Methinks thou protesteth too much"?)
Well, Mr. Dawkins decided it was time for a few changes in Shangri La. He wanted to change his site with some new ideas, and part of his plan included shutting down the forum in its present format. He duly informed his audience of what he was going to do, and lo and behold he had a number of his atheist admirers suddenly turn on him.  It got nasty indeed, with many calling him some very foul names.
In response, an understandably angry Dawkins shut down the forum and wrote an open letter denouncing his detractors appalling behavior.  (After all, he is the Creator and Owner of the site, doesn't he have a right to do with it as he pleases? Hmm. Might want to stop and think about that one Richard!)
You can read his open letter, entitled "Outrage" HERE (as long as it is allowed to remain on the site). [NOTE: it has now been taken down, so the link has been disabled.]
Mr. Dawkins, why on earth would you be outraged? What has given you any sense at all that there is such a thing as "good" or (in this instance) "bad" behavior? If we are merely more highly evolved animals, who SAYS anything is right or wrong?
Clearly Richard Dawkins does have a sense of things that violate what is RIGHT and proper. He admits that there is a standard.  Where did that come from?  Evolved gloop out of the primordial slime could not have constructed such a uniform and universal ethical code, engrained in a living "conscience" as part of our human makeup.  Moral law makes no sense without a moral law Giver.
"… for when Gentiles, who do not have the law, by nature do the things in the law, these, although not having the law, are a law to themselves, who show the work of the law written in their hearts, their conscience also bearing witness, and between themselves their thoughts accusing or else excusing them) in the day when God will judge the secrets of men by Jesus Christ, according to my gospel."  (Romans 2:14-16)
Mr. Dawkins, thank you for demonstrating again the obvious. That there is a good and just God who has written His laws on our hearts.
Phil