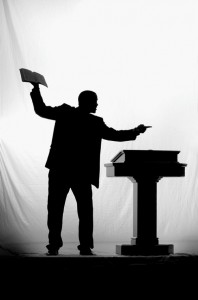 There is no alternative program for the building up of God's Church to replace preaching. It is God's ordained means (1 Corinthians 1:21; Titus 1:3; 2 Timothy 4:2.) So, the Bible gives us quite a bit of instruction about how to preach, including prescriptions on the content of our preaching and examples of powerful sermons.
In particular, two striking and very memorable pictures of what good preaching is should keep us on track.  One is from the Old Testament, and the other from the New.
1. Giving the sense
"And Ezra opened the book in the sight of all the people, for he was standing above all the people; and when he opened it, all the people stood up … So they read distinctly from the book, in the Law of God; and they gave the sense, and helped them to understand the reading."  (Nehemiah 8:5,8)
That is, in a nutshell, what faithful preachers do!  They "give the sense" – they explain and expound what the Bible actually says.  Another way of putting it is that they "unpack" the text for their listeners.
So, what we're trying to do in preaching is NOT to add something to the Scripture, but simply to explain it's meaning so that the listener can apply it to their life.
Quite a common practice today is for a preacher to read a text that speaks to some subject, and then to quite ignore what that text itself (in its context) actually says, and bring all kinds of ideas about that general subject. Often it's a compendium of thoughts and quotes from popular books. But this is not preaching in the Biblical sense.
How do we properly and helpfully explain the meaning of God's Word? Well we begin by thoroughly studying to understand it ourselves. Then we give the sense:
by restating it in other words
by giving background information to help people understand the historical context
by comparing it with other Scriptures which shed light on it
by using good illustrations to make it plain
and so forth
Jesus was so good at this, wasn't He?  He took profound things and made them simple.  Some preachers are guilty of doing the opposite. They take simple things and make them profound, and by the time they've finished nobody understands it any more.
Good preachers do what Ezra and his men did: they "give the sense".  They bring clarity, without changing what the Bible says.
That is why I believe so strongly that the best, most effective, and most Scriptural kind of preaching is EXPOSITORY PREACHING. Expository preaching is not preaching ABOUT the Bible, or Biblical topics, but preaching FROM the Bible.  It deals always with the text in it's context. Whether it is dealing with a verse or a passage or a whole chapter, it starts there and it stays there. Letting the Bible speak – giving it's meaning; "giving the sense".
2. Standing up with the eleven
"But Peter, standing up with the eleven, raised his voice and said to them, 'Men of Judea and all who dwell in Jerusalem, let this be known to you, and heed my words.'" (Acts 2:14)
Here is another very apt description of what all good Christian preaching is.  It is "standing up with the eleven". We must preach "the Apostles' doctrine". (Acts 2:42) That's what the Church preaches.
When I stand in our pulpit in Brookfield, if my message is grounded in the revelation of God's Word, and if I am faithful to what is revealed in the New Testament, then I am "standing up with the eleven". And I'm on safe ground there!
In Jude verse 3 we are exhorted to "contend earnestly for the faith which was once for all delivered to the saints". It speaks of that body of unchanging truth that God graciously gave us through those first apostles.
We dare not change it; and we need not add to it. Our responsibility is to declare it, and to contend for it.  The Apostle Paul warned his young protege Timothy that …
"…the time will come when they will not endure sound doctrine, but according to their own desires, because they have itching ears, they will heap up for themselves teachers; and they will turn their ears away from the truth, and be turned aside to fables." (2 Timothy 4:3-4)
I am disturbed when I hear of people being drawn aside after so-called 'new revelation' from God – novel ideas and fanciful interpretations. Listen, if preachers will determine in their hearts that they are going to preach the whole counsel of God's Word, and stay with teaching the faith the apostles handed to us, we can be absolutely assured that we will have enough material to keep us preaching for 10 lifetimes!
The great preacher, Charles Haddon Spurgeon, said that when he heard other preachers getting away from sound doctrine and into all kinds of peripheral, non-essential things, it reminded him of a majestic eagle swooping down and chasing flies!
Give the sense! Stand up with the eleven!  Preach the Word.
Phil