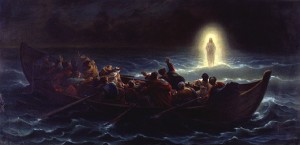 "So when they had rowed about three or four miles, they saw Jesus walking on the sea and drawing near the boat; and they were afraid. But He said to them, 'It is I; do not be afraid.' Then they willingly received Him into the boat, and immediately the boat was at the land where they were going." (John 6:19-21)
I don't know how tired these disciples were after they had rowed a Galilean fishing boat in a storm three or four miles – but I can imagine!
Then something extraordinary happened.
The disciples squinted their eyes and peered into the water spray and the howling wind, and there – coming toward them, walking on the water – was Jesus. A demonstration of the supernatural power of God, suspending the laws of nature.
Of course, we know the story well … BUT did you miss what happened next?  "Then they willingly received Him into the boat, and immediately the boat was at the land where they were going."
They had been struggling and rowing three or four miles – battling the elements – exhausting themselves.  Then something supernatural happened.  Jesus stepped into the boat, and that whole vessel carrying the disciples, was SUDDENLY at the destination.
How much of the work we do in the church is just like those disciples rowing for miles.  Pulling with all our might to preach the gospel, disciple people, and all the while keep the church running and pay the bills. Row, row, row your boat! It's tiring, and sometimes you might feel like you're seeing so little progress.  All that effort – all that rowing – and you don't seem to be any closer to where you want to get.
That's the reality.  And the Lord knew it would often be like that – otherwise He wouldn't have put verses like Galatians 6:9 in the Bible to encourage us.  "And let us not grow weary while doing good, for in due season we shall reap if we do not lose heart."
Sometimes it's just "rowing time".  The disciples were not doing anything wrong rowing the boat.  They were doing what they'd been told to do – being obedient to Jesus.
We have a commission to preach the gospel in all the world, and make disciples.  And in a time when we are NOT in revival, we are still under that Divine commission.  And so we witness, and we preach, and we pray.  We row.  Not independent of God.  We must rely on His strength, and pray for His empowering and leading – but we get on with it.
Zechariah 4:10 – "For who has despised the day of small things."  God tells us not to.  You know what's wonderful about the day of small things?  It comes before the day of greater things.  In fact, usually the greater things are forged in God's people's hearts during the day of seemingly small things.  That's when men and women are praying, and getting desperate and hungry for God.
SO, you know what I am going to do in a day of small things?  When the wind is blowing, and I'm tired and feel weak.  I'm going to row – depending on God all the way, being sustained by His strength.
But  as I row I'm going to pray – pray for that miraculous moment when heaven comes down.  That moment when the presence of Jesus steps into the boat, and everything changes.  The crew is revived.  And all of a sudden, we're at the destination.  The progress that had seemed so hard as we faithfully rowed for so long, all of a sudden comes easy.  And things are done in an instant.  What took years, now takes just weeks or days.  The ones and twos that were getting saved, all of sudden are the scores getting saved.  And the scores even become hundreds. And the hundreds become thousands.
What am I describing?  REVIVAL, and its outflow.   When the presence of God comes down.  When Jesus steps into the boat.
Theologically we know that God is always present.  I hear preachers saying "Don't pray for God to come down as though He isn't already here."  I understand that God is always here – the presence of Jesus.  But I know that there is something MORE to be experienced of His presence.  When He comes in an altogether greater way.
Times of revival, of Sovereign awakening, are historical fact.  Believers have prayed for God to "rend the heavens" and come down, and God has periodically answered that prayer.  People are no different today than they were at Asuza Street, and in the revivals of Wales, and the Great Awakenings, and any other revival you care to name.  And GOD is just the same.  He hasn't changed at all.
Let me say just one more thing about "the day of small things".  If you're tempted to despise the day of small things (rowing).  It's one thing to have a holy dissatisfaction that drives you to pray for more from God – to keep peering out into the waves looking for the approach of Jesus into the boat.  That's good.  But it's another thing to get frustrated, and try to "make things happen" ourselves.  That is frought with peril.
I want revival, but not a man-made one.  God deliver us!  The devil is not afraid of anything man can produce.  We need God the Holy Spirit to move!  And we must not settle for hype.  For man-made fabrications.
Abraham and Sarah had the promise of God, and they were living by faith, enduring until the promise would come.  Waiting for the son that God said they would have.  But they got frustrated waiting, and Sarah suggested that they "take matters into their own hands".  She tried to "lend God a hand" by giving Abraham her handmaid as a concubine.  And what a mess ensued!  There are still catastrophic results to this very day.
I do not want any part of an "Ishmael revival".  Something man-made, something that we hype up because we're tired of rowing and we want to see more happening.  God help us.  I'll wait for Isaac.  The reality.  The miracle of God.  TRUE revival.
Phil