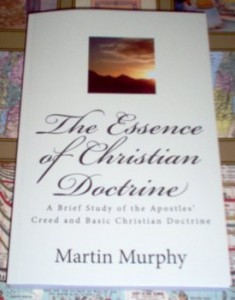 I became acquainted with Martin Murphy recently through a couple of online exchanges, including comments he left right here on this blog. Martin has more than 20 years experience as a pastor and teacher, and holds degrees in Bible and Divinity from Columbia and Reformed Theological Seminary. He and his wife live in South Alabama.
Not every competent pastor or seminary graduate can write. Martin can!
I bought a copy of his new book "The Essence of Christian Doctrine", and as I started to leaf through it I was immediately struck by it's style. It does not pretend to be a magnum opus on systematic theology. (We probably have enough of those.)  It is clearly written for a more popular audience, bringing a good summary of sound Christian doctrine in a thoroughly engaging and readable style.
This book would be a great introduction to theological reading for any young person, and it would make an excellent small group Bible Study curriculum. The seasoned pastor will find immensely helpful material here in preparing to preach doctrine in terms that a whole congregation can grasp quickly.
Approximately the first half of the book (13 chapters) is devoted to expounding the Apostle's Creed, which (in my opinion) ought to be the very first thing we teach new converts, in that it is thoroughly Biblical, easily memorized, and broadly instructional. It's a marvelous doctrinal foundation for anyone.
The remaining 11 chapters cover such things as the authority of the Bible, the providence of God, the doctrines of salvation by grace, the Church, God's law and Biblical evangelism.  (This last topic has become especially close to my own heart, and I have been quietly preparing material on it myself.)
I love this book! It's at the same time both a systematic approach, but also faithfully Biblical; it is appropriately dogmatic, but also pastoral. Martin has not avoided the topics that have historically sparked theological controversy, but he does not engage in the combative arguments that often serve to create more heat than light. He simply and positively lays out the plain teaching of Scripture.
When I bought the book, Martin very graciously also sent me a complimentary review copy of another book of his, which forms a great companion volume to the one above. It's called "Theological Terms in Layman Language".
As the title suggests it is an alphabetically organized glossary of terms used in theological study.  This is a terrific little book to keep beside you when you're reading any theological books (which all Christians SHOULD! … turn off the TV, and dump the paperback fiction for a while – even the "Christian" stuff – and read something solid that will feed you.)
I highly recommend both these books to you. Martin Murphy also has some other titles if you would check out his website for details.
Phil