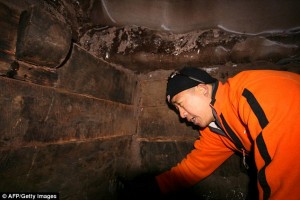 World news services are carrying reports that a joint team of Chinese and Turkish explorers have discovered, successfully excavated and ventured inside a large wooden structure at an elevation of more than 4,000m on Mount Ararat.
Every few years we've heard about different groups setting off on expeditions to try and find Noah's Ark, but these latest reports are quite extraordinary.  Working from previous reports and stories, this team have been at work for 2 years, and claim to have not only found the structure, but have photographs and video from inside it.
So far they have identified 7 "spaces" (compartments) in the part of the structure they have been able to examine. It is definitely made of reddish brown wood planks, with identifiable tenons that accord with a handmade structure made before the availability of nails. At above 4000 metres, this huge structure is higher in elevation than any recorded human dwellings, and well above any treeline.
Responding to the reports, and the evidence retrieved, renowned Dutch expert on Ark research, Mr. Gerrit Aalten, said, "The significance of this find is that for the first time in history the discovery of Noah's Ark is well documented and revealed to the worldwide community."
Perhaps the most exciting factor in these latest claims is the response of the Turkish government. They have expressed appreciation to the Chinese-led expedition, and have signed an agreement of co-operation for further investigation of the site. They plan to submit an application for the wooden structure to be included on UNESCO's World Heritage List.
Mr. Muhsin Bulut, Cultural Ministries Director of Agri Province said, "For more than 2,000 years, historical and eyewitnesses accounts tell us that there is an ancient boat on Mt. Ararat which survived a great flood and landed on the mountain. People believed that it is Noah's Ark. I believe the team has finally located this ancient boat and I believe it is Noah's Ark."
This seems to be a very exciting development. God-willing, more news will be forthcoming over the next few years, should Jesus tarry.
To read all the details, check the following links:
The Daily Mail  (for a critical view)
The Chinese/Turkish Expedition's Website
Phil