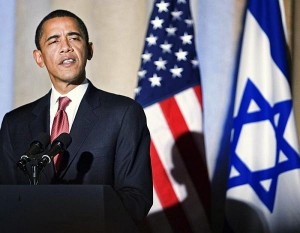 Iranian President Ahmadinejad told ABC's 'Good Morning America' that his country will "definitely continue on its path" with its nuclear program despite Israeli threats of military force. "They're finished. The Zionist regime is finished. They can't even manage Gaza, so they want to get into a conflict with us?" he said.
The reckless contempt the Iranian President shows toward Israel seems to grow by the day. If recent regional history teaches us anything it is that an Arab leader (Sadam Hussein the most recent example) has been very willing to employ a strategy of trying to provoke Israel into a military strike knowing that such action in turn would unite the Arab world against them. The agenda of radical Islam is the annihilation of Israel.
Middle East relations have long been a delicately balanced affair, which U.S. foreign policy has been a major player in maintaining the stability of.  Given this, the recent posture the White House has taken toward Israel to all intents and purposes signals a doctrinal shift that obviously feeds into the hands of the likes of Ahmadinejad.
In March, it was widely reported how ignominiously Israeli Prime Minister Benjamin Netanyahu was treated on his visit to the White House. The press reported it as an obvious "snub" by the Obama administration. In the Israeli media it was even called a "hazing". Robert Malley, director of the International Crisis Group's Middle East program, told The New York Times that "the writing is on the wall that Obama and Netanyahu are going to clash on the final status (of the Palestinians)".
When America stands firmly behind Israel, Middle East posturing is kept in check. When America wavers, the dangerous rhetoric increases, and the possibility of conflict increases with it.
Where is this White House getting its counsel on Middle East relations? From a purely geo-political standpoint, one has to question their sensibility to the gravity of their actions. It's hard not to see it as criminally irresponsible.
From a Biblical perspective, what more can America do to offend God? Added to the official condoning of gross immorality and the legislative promotion of every form of sin, we now have moves toward the abandonment of God's people. Beware! God is faithful to His covenants forever. His promise to Abraham concerning both him and his descendants is "I will bless those who bless you, And I will curse him who curses you ". Genesis 12:3
Phil