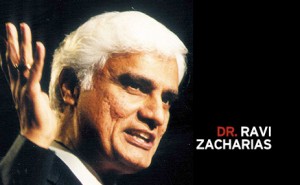 On October 9th and 10th, Dr. Ravi Zacharias will be speaking at the annual Jonathan Edwards Forum in Wethersfield, CT, on the topic of "Christ, Christianity, and the Culture of our Time." The sessions begin at 7:00 PM at the First Church of Christ.
This is a great opportunity for local friends to hear Dr. Zacharias. We're planning on taking a group from our church down on the Saturday evening. Admission is free, but space is limited, so I'd like to call ahead and make sure we'll be able to get seats.  If you're interested in joining us, leave a comment here or give me a call / email.
Folks who were with us for Study Hall on Wednesday nights earlier this year will remember the excellent series "Deliver Us from Evil" which featured the teaching of Dr. Zacharias.
Phil