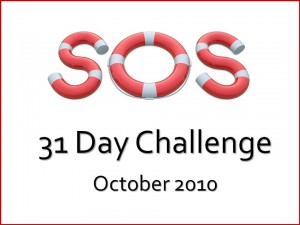 This October, we're challenging everyone at our church (First Assembly of God, Brookfield, CT.) to come on a thrilling, fulfilling, adventurous, dangerous, liberating campaign.  If you're not a part of First Assembly, keep reading anyway because we challenge YOU to join us as well.  If you're the leader of a church or other Christian group, why not bring your people along.
What's it all about?
Every Christian knows that we have been commissioned by Jesus to go and preach the gospel as the main calling and priority of our lives (Matthew 28:18-20).  Jesus sent the Holy Spirit specifically to empower us for this one task (Acts 1:8).  And yet the percentage of professing Christians who actually share their faith on a regular basis is pitifully low.
There are many reasons for this (none of them very good). Busyness, distraction, lack of resources or training. But when it comes down to it, the underlying reason – the real reason – is mostly fear. The fear of man (Proverbs 29:25).
Well, at some point you just have to decide that no excuse is good enough, and you need to say "Fear or no fear, I'm going to start obeying Jesus – the one I keep singing about as my 'Lord'."
We understand that if you haven't done much personal witnessing it can be intimidating to get started. Here's where the "S.O.S. 31 Day Challenge" comes in.  This is a campaign to get your feet wet in evangelism at a level that will dare you and stretch you, but starting out at a level that you CAN reach for.  If you want to plunge in headfirst in the deep end, so to speak – you can do that. But if you're someone who likes to put your toe in the water first, then an ankle and so on, you can do that too.
"Your mission, if you accept it …"
•   For the 31 days of October, we challenge you to EITHER (1) give a good gospel tract to at least one different person every day, OR (2) actually speak to at least one person every day about the gospel.
•   Modified version: If you really have the "just-can't-bring-myself-to-do-it" jitters, start by leaving a good gospel tract somewhere very conspicuous every single day. This can be a lot of fun actually – on restaurant tables, at gas pumps, in the pages of popular books at bookstores. The possibilities are endless.
•   Start at a level you can reach for, and ramp it up. Maybe you'll start by leaving tracts around, and then get the courage to hand one to someone personally, and eventually start a conversation.  But if ALL you do is leave tracts in strategic places, you'll have taken an important step.
•   September should be your "get-ready month". Get your tract supplies ready. If you come to First Assembly and you sign up, we'll be giving them to you. If you're from elsewhere you'll need to order some. GET GOOD TRACTS that present the gospel accurately and strikingly.  We highly recommend the tracts produced by Living Waters, and especially the Million Dollar Bill Tracts.  If you can't afford to buy them, email us at phil@philmorgan.org and we'll gladly send you a packet.
•   The other thing about getting ready ahead of time is to be praying and asking the Lord to help you, and to prepare the way ahead. Believe that God will specifically ordain opportunities, and pray that those hearts will be prepared to receive.
•   Another thing you might consider is to take some training. You don't need a college degree in missiology — just a few basic pointers can be really helpful. We recommend you go watch the 4 videos on this page.  This training is a boiled-down, abbreviated version of all the materials we've used for training in our church the past couple of years, and it will give you a great start. (TIP: There's loads more great material on that website: Way of the Master. But start with the 4 training videos.)
A word to pastors and leaders: If we can help you with more information on training and promotion materials for your church, please get in touch with us. It would be our honor.
WATCH THIS SPACE
Over the next few days and weeks, leading up the S.O.S. Challenge launch on October 1st, I'll continue to post information and inspiration to help us all.  Watch out for: (1) "The Lesson of the RMS Carpathia", (2) "D.L. Moody's Pledge", and "Interview With an Atheist" (COMING SOON), and more.
Join the Challenge on Facebook
CLICK HERE to go to the S.O.S. Event Page on Facebook.  Help us spread the word … "Like" it, "Share" it, and invite your Facebook friends.
One more really important thing …
To make sure you don't miss anything, SIGN UP FOR MY EMAIL LIST.  Once each week (occasionally twice) you'll get the whole roundup of what's going on with the campaign (and other stuff).
Phil