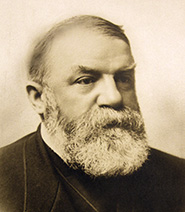 by Al Van Geersdaele
What's in a day?  Have you ever really thought about it?  What did we do with the time we were given by the Lord yesterday?  We all were allocated the same amount; 24 hours, 1,440 minutes, 86,400 seconds, and in that time we needed to take care of sleeping, working, eating, shopping, etc.  Oh yeah, and 150,000 people will have to take care of dying today, and tomorrow, and the next day, and the next, well, you get the idea.  That boils down to about 104 per minute!
What can WE do about it?  It is a shocking reality that most of those who went off into eternity yesterday went down the broad road to destruction.  We can't stop the onward march of souls that perish, but we can do something about where they go to spend eternity when they perish.  We can follow the example of one the great evangelists in American history …
D.L. Moody made a covenant with God that he would witness for Christ to at least one person each day.  One night, about ten o'clock, he realized that he had not yet witnessed; so he got out of bed, got dressed, and in the Chicago snow, went out in to the street and spoke to a man standing by a lamppost, asking him, "Are you a Christian?"  The man flew into a violent rage and threatened to knock Moody into the gutter.  Later, that same man went to an elder in the church and complained that Moody was "doing more harm in Chicago than ten men were doing good."  The elder begged Moody to temper his zeal with knowledge.
Three months later, Moody was awakened at the YMCA by a man knocking at the door.  It was the man he had witnessed to.  "I want to talk to you about my soul," he said to Moody.  He apologized for the way he had treated Moody and said that he had had no peace ever since that night on Lake Street when Moody witnessed to him.  Moody led the man to Christ and he became a zealous worker in the Sunday school.
Can you make that same covenant?  After all, you and I have the same 86,400 seconds every that Moody had.  Just to note his busy schedule, he preached six sermons a day just the month before he died.  In spite of that, he shared the gospel personally with someone every day.
Can we do that?  Can we share the gospel with someone every day?  If we cannot verbally share the gospel with a precious soul that is perishing, going into the everlasting punishment of the Lake of Fire, can we at the very least, and it IS the very least, place a gospel tract in someone's hand every day?
Think about it!  If just the adults who attend First Assembly regularly did that each day, in one year, 91,250 people will have received the gospel in our community. It is not so much whether we are capable of doing that, but, are we WILLING to do that.
What will YOU do with this plea?  Will you allow the Lord to lead you to a person whose heart is prepared for the Gospel by the Holy Spirit?  Will you let Him use you to fulfill Jesus last command to the church?
And He said to them, "Go into all the world and preach the gospel to every creature." (Mark 16:15 NKJV)
During the 4 minutes it took you to read this, over 400 people went out into eternity, most of them to the Hell.  Think about it!
Pastor Al
---
The S.O.S. 31 Day Challenge
We are issuing a special challenge to all our church family at First Assembly, and to anyone else who will join us. Throughout the month of October will you commit yourself to not allow one day to go by without giving the gospel to at least one person – either by a personal witnessing conversation, or giving them a clear gospel tract.
We want this to be a great way for people to make a start in a life of personal evangelism. It doesn't have to be terrifying – check out this post for full details.