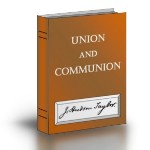 We're pleased to release a brand new eBook available for instant download (just CLICK HERE).
"Union and Communion" by J. Hudson Taylor is a wonderful devotional classic based on the Song of Solomon.
It's just 50 pages long, but it is so full of rich content you will want to read it more than once. I urge you to download it, and spend some time with it in your daily devotions.
Taylor wrote this in 1893. He views Song of Solomon to be "a poem describing the life of a believer on earth." Divided into six short chapters, the book describes the believer's return to God, the "King of Love", in order to be in union and communion with Him.  It will remain available here on our download page.
Enjoy!
Phil