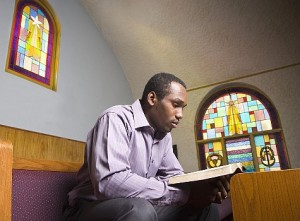 The preaching of God's Word is a sacred act. When it is faithful to the Scriptures and done in dependence on God, He speaks through it. The moment does not belong exclusively to the preacher, but in fact it belongs to the whole church, to whom it is a means of grace.
Every Christian, accordingly, needs to hold a high view of preaching. We must make sure that we continuously attend where the Scriptures are being preached, and we should come with an expectancy that God will use it in our lives. We ought to train ourselves to be good listeners.
How exactly do we do this?
1. Preparation
Getting ready to listen to the sermon should start well before the pastor steps to the pulpit. We would all benefit very much if we regularly prepared our hearts before even arriving at the church. Earlier in the morning, or perhaps even the night before.
– Ask for the help of the Holy Spirit. Jesus said in John 16, "when He, the Spirit of truth, has come, He will guide you into all truth; for He will not speak on His own authority, but whatever He hears He will speak; and He will tell you things to come …  He will glorify Me, for He will take of what is Mine and declare it to you."
The Holy Spirit is the Author of the Bible; we should ask for His promised help and guidance in understanding its truth correctly. (And while you're at it, pray for the preacher to have His help too!  When Spurgeon was once asked what was the secret of his power in gospel preaching, he answered "My people pray for me.")
– Confess and repent of sin. Did you realize this is an important part of preparing yourself to listen to preaching? James 1:21-22 says, "Therefore lay aside all filthiness and overflow of wickedness, and receive with meekness the implanted word, which is able to save your souls.  But be doers of the word, and not hearers only, deceiving yourselves."  
If you're going to "receive the implanted Word" — if you're going to hear from God — first you must "… lay aside all filthiness and overflow of wickedness".  James is writing to Christians, and here is his warning message:  continuing sin deafens the ear to God's voice.  You won't hear from God if you continue in willful disobedience to His Word.
2. Posture
I'm not talking about sitting up straight in church, but rather the way you bring yourself to the act of listening.
– Open your heart. In those verses we just read in James it tells us to receive the Word "with meekness". We need to humble ourselves, and be prepared to be adjusted and corrected by the Word of God.
– Shut out distractions.  To the best of our ability we must try to give our undivided attention to what is being preached. Other things can wait outside – this is the holy moment when we desire to hear God speaking. It's also proper that we help each other with this by not distracting one another; we limit moving around or making noise. This is not legalism – it is love and courtesy.
3. Practical Tips
– Be rested. If you are serious about maximizing your growth as a believer through the worship and learning that happens in the church gathering, you should get to bed early on Saturday night and come to God's house refreshed in body and mind.
– Take notes.  Writing down the outline of what is taught has the immediate benefit of helping to cement the truths in our memory, even if we don't keep the notes. Of course, even greater benefit can be realized by going over the notes again at a later time.
– Share what you've learned with someone.  One of the best ways to really learn a truth is by teaching it. So try and find an opportunity as soon as possible to share with someone else what you heard the preacher say. The family meal on Sunday afternoon might be a great time to talk over the points that were made in the morning sermon.
4. Putting it into Practice
– Again to come back to those words of James, he cautions us "But be doers of the word, and not hearers only, deceiving yourselves."  The act of hearing God's Word is not complete until it is acted upon. Obeyed. Our ultimate goal must be to "grow in the grace and knowledge of our Lord and Savior Jesus Christ." (2 Peter 3:18)
Do these things, and may God work effectively and deeply in all our lives for His glory.
Phil