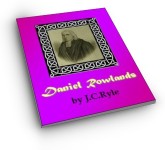 We have a brand new free eBook ready for you to download. Let me say a few words of introduction as to what it's about.
From time to time you will hear people talking about "the Welsh Revival". When I hear that I immediately want to ask "Which Welsh Revival are you referring to?"  The fact is that there have been no fewer than 18 significant revivals in the small principality of Wales stretching over a period of several centuries.
The revival most often referred to is the 1904 revival which featured the preaching of Evan Roberts, among many others whom God used at that time. During that visitation of God it's estimated that 200,000 were converted and added to the churches 4 months, and the work and fruit continued for many years.
But if it's not 1904, then another very famous revival was prior to that around 1859, which occurred almost simultaneously with the famous Ulster Revival in Ireland. In Wales in 1859 men like Humphrey Jones and David Morgan were signally used by God.
These are perhaps the two most documented Welsh revivals, and therefore those most usually being referred to as "The Welsh Revival", although as you can see already there was not just one.
If we go back even further to the roots of God's marvelous dealings in this little nation, in the 18th Century God greatly used the preachers Daniel Rowlands and Howell Harris, along with the great Welsh hymnwriter William Williams (who would come to be known as the Welsh Charles Wesley).
These names may be lesser known to today's generation, but these men were giants in their day. I have been particularly inspired by the story of Rowlands, who J.C.Ryle referred to as "The Apostle of Wales".
Daniel Rowlands
He lived from 1713 to 1790, and his ministry was centered in the village of Llangeitho. Most of his preaching was delivered in the Welsh language, and so only a limited amount which was translated into English has survived.  (I have a selection of his sermons, and I will be publishing one of them tomorrow for our weekly "Dead Guy University" post.)
I have felt very impressed to republish as an eBook the short biography of Daniel Rowlands that was written by J.C. Ryle.  I really encourage you to download and read it (CLICK HERE).  It will continue to be made available on our DOWNLOAD PAGE.
I know it will be a blessing to you.
Phil