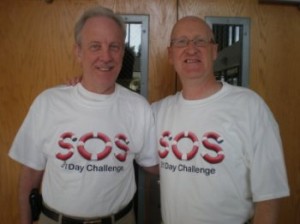 With one week to go, we have 139 people signed up ready to start the S.O.S. 31 Day Challenge on October 1st. Already that means a minimum of 4309 people will be presented with the gospel in some form in October. Even more importantly, we're believing for all the believers who are participating to be mobilized to make witnessing a part of their lives after the October challenge is finished.
139 people deployed. Exciting! … but we still have another week to increase the size of our army. YOU can help us!
To spread the word, just do one or both of the following:
1. CLICK HERE to go to our S.O.S. 31 Day Challenge Facebook Page, and send an invitation out to all your Christian Facebook friends to join us. It's easy to do: In the top left hand corner of the page click the button that says "Select Guests to Invite".
2. Not everyone is on Facebook. So send an email to all the Christians in your email address book, and invite them to check out the S.O.S. page on this blog at http://www.philmorgan.org/events/s-o-s-challenge/
A couple of important notes:
Challenge Kits will be distributed at our Sunday services this week. If you don't attend First Assembly, but would like a Kit (which includes a supply of gospel tracts for the month), CLICK HERE TO EMAIL US and we'll mail you one.
We have set aside Thursday, September 30th as a day of prayer and fasting for the event.
Until the nets are full!
Phil