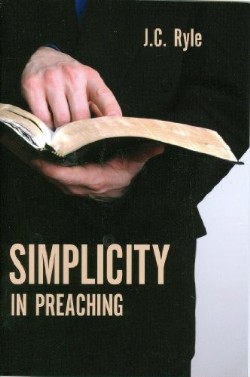 Pastor Al recently purchased a number of copies of this wonderful little booklet and gave me one. It's based on a lecture delivered at St. Paul's Cathedral, London, on behalf of the Homiletical Society by J.C. Ryle (who Spurgeon called "an evangelical champion . . . One of the bravest and best of men.")
What a great (and quick!) read. As the title suggests, it is a very persuasive appeal for preachers to strive at being simple in our preaching. Not "simplistic" or childish, but to avoid complexity that tends to encumber the message with clutter that works against clarity.
Ryle makes his case under 5 headings:
1. Have a clear view of the subject
2. Try to use simple words
3. Take care to aim at a simple style of composition
4. Use a direct style
5. Use plenty of anecdotes and illustrations
These are just the headings, and a lot of helpful points are made under them. Ryle also covers "preaching to do lasting good", "keeping the whole gospel central", "lively delivery", and "the need of the outpouring of the Holy Spirit".
Students preparing for the work of preaching, as well as seasoned pulpit veterans will find this an invigorating read. I highly recommend it. Copies can be ordered from Amazon (CLICK HERE).
Phil