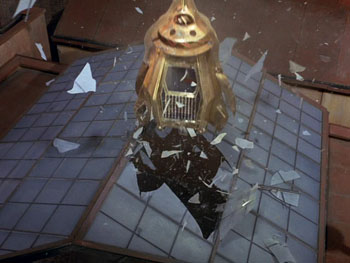 "Do not let your heart envy sinners, But be zealous for the fear of the LORD all the day; For surely there is a hereafter, And your hope will not be cut off." (Proverbs 23:17-18)
Being a true disciple of Jesus Christ will unavoidably involve sacrifice. Sometimes lucrative opportunities will have to be turned away from because the Lord has a different plan for us. Sometimes we won't even be extended an opportunity because the world hates our Lord.
In any case, our focus is not meant to be on fleeting material wealth. Jesus said,"Seek first the Kingdom of God and His righteousness, and all these things will be added unto you." (Matthew 6:33)
He gave us that very solemn warning about foolish priorities in His parable of The Rich Fool:
Then He spoke a parable to them, saying: "The ground of a certain rich man yielded plentifully. And he thought within himself, saying, 'What shall I do, since I have no room to store my crops?' So he said, 'I will do this: I will pull down my barns and build greater, and there I will store all my crops and my goods. And I will say to my soul, "Soul, you have many goods laid up for many years; take your ease; eat, drink, and be merry." But God said to him, 'Fool! This night your soul will be required of you; then whose will those things be which you have provided?' So is he who lays up treasure for himself, and is not rich toward God."  (Luke 12:16-21)
There are many billionaires today, in financial terms, who are about to lose everything (EVERY billionaire eventually dies!)  And there are paupers today, financially speaking, who are about to inherit wealth beyond all our wildest dreams – and it's a wealth that can never be taken away again.
One of my favorite movies I used to love to watch with our kids was "Willy Wonka & the Chocolate Factory".  I love the last scene, when Charlie has been all through the factory – and all the other selfish children, who were greedy to get all they could, have been left behind.  And Willy Wonka takes Charlie out through the glass ceiling of his great factory in the great glass Wonka-vator which soars above the factory.  And Willy Wonka says to Charlie, "What do you think of my factory, Charlie?" And Charlie replies, "I think it's the most wonderful place in the whole wide world." And Willy Wonka says, "I'm very glad to hear you say that, Charlie, because I'm giving it to you."
Can you imagine that?!  Charlie couldn't.
What a picture that is. One day, for every person who has put God FIRST in their life, above the pursuit of all other things.  While others around them were clamouring to get all they could, they just kept their hearts on eternal values.  One day very soon, the Lord is going to walk them down the streets of glory – the heavenly city that is beyond compare.  And He's going to say, "What do you think of my city?"  And we will reply, "There's no question, Lord – It's the most wonderful place in all the universe."  And He will say, "I'm so glad to hear you say that.  I'm so glad you didn't settle for anything less. Because I'm giving it to you."
You might want to tuck that little scene away in your mind for next time you are tempted to be envious of someone who seems to "have it all", but doesn't know Christ.  What do they really have?
Phil