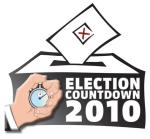 Election Day is fast approaching. As a committed Christian, what preparation s are you making?
Romans 13 is the classic passage in all the Bible about how we are to relate to our local, state and federal government …
"Let every soul be subject to the governing authorities. For there is no authority except from God, and the authorities that exist are appointed by God. Therefore whoever resists the authority resists the ordinance of God, and those who resist will bring judgment on themselves. For rulers are not a terror to good works, but to evil. Do you want to be unafraid of the authority? Do what is good, and you will have praise from the same.  For he is God's minister to you for good. But if you do evil, be afraid; for he does not bear the sword in vain; for he is God's minister, an avenger to execute wrath on him who practices evil.  Therefore you must be subject, not only because of wrath but also for conscience' sake.  For because of this you also pay taxes, for they are God's ministers attending continually to this very thing.  Render therefore to all their due: taxes to whom taxes are due, customs to whom customs, fear to whom fear, honor to whom honor."  (Romans 13:1-7)
Christians are blessed to be citizens of a heavenly kingdom. Our citizenship is in heaven – Philippians 3:20. We have been conveyed into the kingdom of God's dear Son – Colossians 1:13; Revelation 1:9
As such, we are described as "sojourners and pilgrims" in this world – 1 Peter 2:11
Every Christian is a DUAL-citizen.  Wherever in the world they live – they may be devoted American citizens, British citizens, South African citizens, German citizens, French citizens … whatever.  Every Christian is also a citizen of the kingdom of God.  That, in fact, is our FIRST citizenship!  We have been "born again" of the Heavenly city. We are foreign ambassadors in the earth. Your home and your church are embassies – each a piece of the divine soil on earth.
When the forefathers were fighting the Revolutionary War to establish the United States of America, one of their catch-cries was "No king but King Jesus".  That's a matter of historical record, even though our former Attorney General, John Ashcroft, was attacked for quoting it in a public rally. That was the heart of the founders of this nation.  "No king but King Jesus".  They wouldn't bow to the English monarch, or to any other man.  They certainly gave their loyalty to this Union, but it was a secondary citizenship to their allegiance to God and His kingdom.
NO earthly kingdom is eternal.  The great proclamation we read in Revelation 11:15, is that one day loud voices will call through the streets of heaven, reverberating out to the ends of the universe, "the kingdoms of this world have become the kingdoms of our Lord and of His Christ, and He shall reign forever and ever."
On that day, the world super power of the United States, along with the British Empire, and the massive Republic of China, and the European Economic Union, will ALL have passed into the annals of history as "yesterday's ideas" – remembered alongside the Roman Empire, and the Persian Empire, and the Babylonian and the Alexandrian, and the Egyptian Empires, and every other FORMER kingdom.  ALL finished.  And the Lord Jesus shall reign over HIS one eternal Kingdom that encompasses and supersedes all.
Don't build your stock in this world.  Heaven is our home!
BUT, having said that, for this short period of time while we live on earth, we DO have a DUAL citizenship. Our hearts may be in heaven already, but we live out our lives on the earth – part of earthly societies, and under the government of men.  And the Bible is very clear that we are to recognize that, and see the responsibilities of this DUAL citizenship.  We are to be very good citizens here. Christians ought to be the BEST citizens that America has!
The Lord's church began and thrived 2000 years ago during the time of the Roman Empire.
Paul wrote to Christians in the worldwide capital city of Rome about their responsibility.  Peter did also, to Christians dispersed in outlying areas of the Empire.
The apostolic view of each Christian's duty to government is made very clear in Romans 13.
A) Governments are Appointed BY God
What governments is Paul talking about?  The term is "higher powers" / "higher authorities".  This encompasses Federal, State and City governments. It includes police and courts of law.
We are to be "subject".  In willing submission.
God may give a leader to lead in His purposes. He may give a leader as judgment, to bring the nation to her knees in prayer.  But He WILL appoint the leader.
B) Governments are Accountable TO God
Paul gives us here the reason that God establishes human government.  And this reveals what God expects of those he sets in these positions. It would be good for our leaders to read these verses from time to time.
We are to submit to our rulers recognizing that their power is delegated by the Lord.  HE is our ultimate King.  That means that we obey our earthly authorities "as unto the Lord".
And here is where there is a caveat to our obedience.  No earthly authority is a law unto themselves.  They are accountable to God – and every one will stand before Him.  Each one is being, and will be, evaluated by God.
The Bible clearly teaches us that if earthly rulers contradict God's law, we are to obey the higher law of God.  (It's not a question of disobeying man, but rather of obeying God.)
So, there is a time for civil disobedience.  A time to obey God rather than men.  HOWEVER, we'd better be sure that we ARE acting because of specific obedience to God's law, and not just for our own opinion's sake.
Well, all that being said, what are we instructed to do at this election. What would God have Christians to do.
1. VOTE!
Romans 13:1 indicates that God is the source of political governments. He not only establishes the rulers, but also the way the government rules and operates. That means the democratic system of government God placed in America. And since our system allots individual citizens the prerogative to participate in choosing their leaders, Christians not only have a national right to vote, they have a God given responsibility to be involved and vote in the system God ordained.
On November 2nd all eligible Christians in America should VOTE!
2. VOTE BIBLICAL PRINCIPLES
As a Christian, all your rights and allegiances have been turned over to the Lord Jesus Christ.  Have you sought Him about your vote?  Have you consulted what He has said in His Word about the issues involved?
Don't vote just because you've always voted for a particular party.
You see, our ultimate allegiance should not be to any political party. It should belong to God. Do you believe that? Then don't let the media or hollywood or even friends or family members ultimately influence the way you vote. God and His word should have final sway in that matter. You see, if He is Lord of all, doesn't that mean God should be Lord when it comes to which lever we pull in a voting booth?
Don't vote for your comfort.  Do your best to vote on the issues that matter to God.
The problem we all face is trying to find out which candidate God would have us vote for. That's why every believer ought to research the candidates. Watch the debates. Listen to what they say. Read and look on line for voter guides, which indicate what their past actions were concerning issues that are important to God. Get a voters guide and see what they stand for.
Finally, as Christians we all have a great responsibility to be praying through election day for the process, that the Lord will superintend it, and give us the leadership HE purposes for us to have.
And then, whoever IS elected (whether they were our choice or not), we will have the responsibility to honor them and continue to pray for them.
Phil