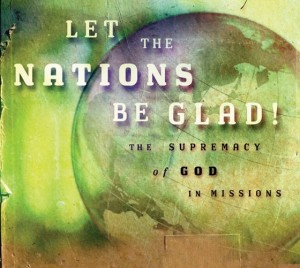 Commencing next Wednesday evening, October 27th – 7.00pm.
A brand new 6-part series for our midweek Study Hall, to coincide with our November Missions Emphasis Month …
Let The Nations Be Glad!
Based on the book, and featuring video teaching clips, by John Piper.
Most often when we hear calls to missions, they are based on an appeal to the need of lost souls to know the Savior. This, of course, is a vital truth, and we SHOULD be moved to compassion with the plight of those who have not come to faith in Christ. There is, however, another reason that the church must be completely engaged in missions as our highest priority: that is, for the glory of God.  In the words of Albert Mohler, "John Piper places missions where it belongs: at the heart of God's desire to be glorified among the nations."
If you live in the greater Danbury area, we invite you to join us. The coffee is on at 6.45pm, and the program concludes at 8.30pm. All-age kids programs run concurrently (staffed nursery available).
Week 1: Defining Missions & Defining Peoples
Week 2: The Urgency of Missions – The Reality of Hell & The Work of Christ
Week 3: The Urgency of Missions – Preaching, Hearing & Believing
Week 4: The Goal & The Fuel of Missions
Week 5: Prayer – The Power of Missions
Week 6: Suffering – The Cost of Missions
Phil