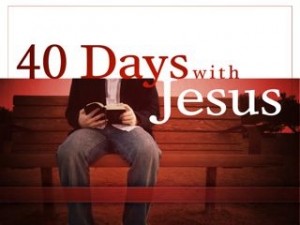 What IS 40 days with Jesus? Simply, a churchwide campaign to prepare our hearts and reach out to our friends at Easter 2011. From March 14th through Easter Sunday everyone at First Assembly is being challenged to read together through a series of daily Bible readings about the life of Jesus and the prophecies about Him from the Old Testament.  Then a couple of weeks before Easter we're asking everyone to give away a second book, "The Risen Savior", to a friend or family member with a personal invitation for them to come to church on Easter Sunday morning.
Today's Devotion:
Whose Business?
Read Luke 2:39-49
The year was 1964.  My family was on a long road trip to Illinois to visit relatives.  I was nine and my younger brother David was seven.  We stopped on the old Route 66 somewhere in Indiana, to refuel and use the facilities.  We all got back in the car to continue our seemingly uneventful journey west.  We pulled away from the travel plaza and, after about 5 minutes on the road, I asked my Dad a question that stopped the car, and almost stopped his heart.  I said: "Dad, where's David". It seems that in the midst of the activity Mom and Dad assumed David was in the car, but he was not.  Luke lifts a similar event out of the boyhood of Jesus when He was twelve years old that is similar to my experience, as His parents began to travel the 64 mile journey home from Nazareth to Jerusalem.
In those days, for safety reasons, people traveled in companies.  When the time came to leave Jerusalem, the group going to Galilee gathered together to begin the journey home.  Everything appeared to be seemingly uneventful, until someone asked the heart-stopping question, "Where's Jesus?" Immediately Mary and Joseph left the caravan and returned to Jerusalem and looked for Jesus for three days, and where do you suppose they found Him?  He was in the temple.
When my parents and I got back to the travel plaza, after a frantic search, there was my brother, standing at the book rack, fully absorbed in reading the latest Fantastic Four comic, unaware that he was missed.  When Mary and Joseph finally found Jesus in the temple, He was standing in the middle of the learned doctors of that day, fully absorbed in both hearing them and asking them questions, apparently unaware that he had been missed.  My brother, at the comic book rack, was missed because he was about his own business.  Jesus was missed because He was about His Father's business.  Which one are you about, your business or that of your Heavenly Father?