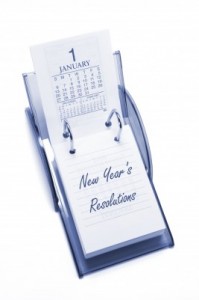 New Year Resolutions often don't last the first week of the year, but I do believe that new year is an excellent time to renew again the basic COMMITMENTS of following Jesus.
Keep your new year commitments as short, simple and specific as possible.  Don't have 25 goals, each made up 10 projects, and don't let yourself be "vague" either.
Let me suggest a simple starting point for a plan you can adapt for yourself:
1. Read your Bible through in 2012
Find a simple plan to guide you. Here's a great site to help:
You can sign up for free, and use the main site or download the apps for your smartphone or tablet. It has lots of great Bible reading plans to choose from, including basic through the Bible in a year options.
2. Start a prayer journal
Commit to spending time each day in devotional and intercessory prayer. i.e. both prayer that is just communion with God – talking with Him to know Him – and prayer that brings the needs of your family and others to the Lord.
Get a simple notebook and each day just write down anything particular that you prayed about. It's amazing how quickly you'll be able to look back on previous days entries and see how God has answered you.
3. Read some other good books this year
Write a list. Pick some books that will help you and challenge you to grow in your Christian walk. Biographies of Christians who God used are especially good.  If you haven't yet read these two books, DO NOT go another year without doing so! …
Pilgrim's Progress by John Bunyan
Mere Christianity by C.S. Lewis
If you want to read along with me, I'm going to start out the New Year with the bestseller …
Safely Home by Randy Alcorn
Let's be committed to growing together as true disciples in 2012!