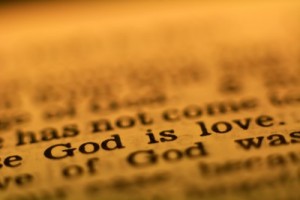 1 John 4:18 says, "There is no fear in love; but perfect love casts out fear, because fear involves torment. But he who fears has not been made perfect in love."
The list of things that people fear today is endless, but the 4 fears I'm going to mention in this post are very typical, and a lot of the other things that we fear can fall into one of these categories. The apostle John's words assure us that each of these things is fully answered by love.
But it's not just any old "love" — oh, how that word is strewn about and emptied of meaning in these fickle days.  No, John qualifies it to be "perfect love" that he's referring to. The word means "complete, full grown". And "love" here is agape.  So he's talking about "complete, unconditional benevolence".  In other words … GOD'S love. The love that originates in Him, and has been "shed abroad in our hearts" (Romans 5:5).  As you come into the experience of this love it replaces every fear, ultimately leaving no room for them.
So, without further ado, let me give you 4 great fears that love casts out:
1. The Fear of Man
"The fear of man brings a snare", says Proverbs 29:25
Now you can be shackled by this fear in two very different ways.  The first is the fear of opposition by people.  You're afraid of confrontation, or of the power that some other person has to harm you or take from you. Afraid of what men might do to you. It's the fear that the smaller boy feels about the schoolyard bully; and it never quite leaves a lot of us, but can torment us for a lifetime.
The second form of the fear is more subtle, but just as debilitating. It's the over-concern with popularity. Having to have people's approval or praise. Many a leader has failed to do what needed to be done for fear that they wouldn't be liked for it. What a trap.
But perfect love casts out the fear of man, because whatever men may seek to do to me, or whatever they think or don't think of me, I am safe in God's love. "If God be for us, who can be against us (effectually)?" (Romans 8:31)
2. The Fear of Failure
We learn this fear through a lifetime of self-disappointment, don't we? The human condition is to wrestle with our weakness and limitation. We wouldn't even be in this condition but for a grand failure in the first place. It's so much a part of our whole history.
Every life is marred by failures, but by God's grace there are also achievements and advances. The battle is to not allow the failures to kill our hope and paralyze us from ever trying.
The answer, again, is God's perfect love which assures me that my value is not based on what I achieve or don't achieve. My value is set as a constant by the One who loved me enough to yield the heavens to come and stand by me.
3. The Fear of Change
It can be bewildering can't it? Disorienting. Unnerving. The relentless pace at which everything around us seems to be changing.
You may be able to handle some changes, even welcome them. Advances in technology, for example; what overwhelms some thrills others. But who is not tempted to be afraid in the midst of the tremendous social upheaval of our times: terrorism, global economic crises, "wars and rumors of wars".
How does God's love deal with all this? The answer is the unchanging nature of God's love. This is our absolute certainty when everything else is changing around me. I can face it all because I have the Eternal Constant with me: the loving God.
4. The Fear of Cost.
Haven't we all faced the fear that what we are seeking to accomplish just might cost us too much. If I stand with God's Word as my standard, if I raise my voice against injustice, if I give up a promising career to serve the poor, the price just may end up being too high. We linger with the decision as we mull over the loss of approval, or money, or fame.
Again, the perfect love of God saves us. This time it drives this fear away.  The apostle Paul expressed it this way, "the love of Christ compells us …" (2 Corinthians 5:14). It leaves us with no option but to choose the riskier road; but the only road with rewards that last.  And this love also reminds me that whatever price I might pay, it could never be as great as the price He paid to bestow it upon us.
My son, Ben, reminded me this past week:
The love of God is greater far
Than tongue or pen can ever tell.
It goes beyond the highest star
And reaches to the lowest hell.
Whatever you are tempted to be afraid of today, climb into the cleft of the impenetrable rock that is God's love. When you get there, fear cannot follow.