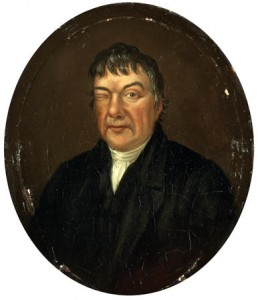 On Sundays I post short classic pieces from famous Christians signally used by God down through the history of the church. Our focus today is on Christmas Evans (1766-1838).
Entering The Port
A sermon fragment by Christmas Evans
"For so an entrance shall be ministered unto you abundantly into the everlasting kingdom of our Lord and Saviour Jesus Christ"  2 Peter 1:11
This language seems to be borrowed from the case of a ship bringing her passengers to port on a pleasant afternoon, her sails all white and whole, and her flags majestically waving in the breeze; while the relatives of those on board ascend the high places, to see their brothers and their sisters returning home in safety from the stormy main.
How pleasant to a man who is about to emigrate to the new world, America, when he meets with some one that has been there, and who is well acquainted with the coast, knows the best landing-place, and will accompany him on his passage.  "Though I walk through the valley and the shadow of death, I will fear no evil: for thou art with me; thy rod and thy staff they comfort me."  He who passed through death himself, and is Lord of the sea, is our High-priest; and, with his priestly vestments on, he will stand in Jordan's current till the feeblest in all the tribes shall be safely landed on Canaan's shore.
How delightful must be the feelings of the dying Christian, the testimony of whose conscience unites with the witness of the spirit, to assure him that Jesus has paid his fare: and who knows he carries in his hand the white stone with the new name, to be exhibited on the pier-head, the other side, hard by his Father's house. This is an abundant entrance, on a fair day, over a fine sea, with a pleasant breeze swelling every sail.  "Now lettest thou thy servant depart in peace, for mine eyes have seen thy salvation."
O how different the entrance ministered to the careless professor the fruitless and idle who keeps his hand in his bosom, or leaning upon his implements! Though he may reach the shore with his life, it will be at midnight, surrounded by roaring tempests, full of bitter remembrances and most tormenting fears. Yet, with tattered sails and broken ropes, peradventure he may gain the port; "for the Lord is good, and his mercy endureth for ever."  But who shall describe the condition of the ungodly, driven out to sea in all their wickedness ; not even allowed a quarantine within sight of the heavenly Jerusalem, but obliged to drift about, dismantled "and disabled, amid the darkness of eternal storms! Oh! to be forced from their moorings at midnight, when they cannot see a handbreadth before them; the thunders rolling; the lightnings flashing; strange voices of wrath mingling with every blast; and the great bell of eternity tolling a funeral knell for the lost soul, through all its dismal, and solitary, and everlasting voyage!
Let us flee for refuge, to lay hold on the hope set before us, which hope is as an anchor of the soul, sure and steadfast, grasping the Rock of Ages within the veil!
---
Christmas Evans (1766-1838)
They called him "The Welsh Bunyan" comparing him with that wonderful man of God, John Bunyan, author of Pilgrim's Progress.  What was Evans' birthday? If you guessed December 25th, you're right — and so his parents, poor shoemakers, called him "Christmas".
He grew up in abject poverty after His father died when he was still a young boy. By the age of 17 he could neither read nor write, but he was converted in a season of revival at the Presbyterian church in Llwynrhydowain. Immediately he and several other boys were so anxious to read the Bible that they spent all they had on Welsh copies and candles, and studied them for months until they could each read the precious Word of God.
Evans preached the gospel to some of his other old companions, and they became so angry with him that they beat him mercilessly with sticks, causing him to lose one eye. To this day he is often referred to as "the one-eyed preacher".
Later he would be baptized to join a Baptist church, and began to garner a reputation as a captivating preacher. He pastored numerous churches around Wales and was beloved in that country until the day of his death.
"Sermons of Christmas Evans" is available from Nabu Press.  The above "fragment" is taken from the sermon, "Entering the Port".
---