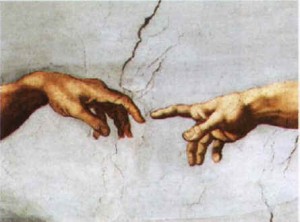 This is the first post in a series representing my participation in a project called "Mercy Mondays"; the idea of another blogger by the name of Jenn.  Each Monday, Jenn will write a prompt based on the glorious topic of "mercy", and she's inviting others to respond however they'd like to.  (You can read all the responses each week on Jenn's blog, and perhaps even get involved and offer your own thoughts.)
This week's prompt is:  "What mercy isn't". To which I respond:
Mercy Isn't Approval
"Neither do I condemn you. Go and sin no more." (John 8:11)
Jesus spoke these words to a woman caught in the act of adultery. No plea of innocence is ever entered on this woman's behalf, because the evidence is conclusive – she was caught in the very act. The fact that adultery takes two, and we all want to know why the man involved hasn't also been dragged in shame before this judgment, does nothing to change the fact of her personal guilt.  She has sinned grievously against God and man, and deserves the full penalty for it.
Instead, she receives mercy.
When God shows us mercy, it's not because He's been able to rationalize our sinfulness into something He can condone. It is "mercy" precisely because He can't condone it. The sin really is sinful, as the Puritan Divine Ralph Venning put it, and so for God to turn His face toward us instead of away from us as we deserve is an act of sheer grace.
This means that we should never make the mistake of thinking that our experience of God's mercy is somehow license for our sinful behavior to continue; that God has signed off on it. We must realize that God has shown mercy in spite of real offense, and He calls us to respond to His kindness by leaving behind everything that necessitated the mercy.
It also means that in our relationships toward others who offend us, or who hold very different points of view than we do, we cannot hide ourselves behind the excuse that the offender doesn't warrant our mercy because they haven't changed, they haven't apologized, they haven't made amends. God's mercy, which we are called to emulate, reaches out to us in our estrangement. "While we were yet sinners, Christ died for us." (Romans 5:8)
So then, as regards ourselves, let us respond to the mercy of God by leaving our sin behind to run into His merciful embrace. And as regards others, let us show mercy not only because God does, but also in the same way that God does: proactively, while it still can be called mercy and not reward.