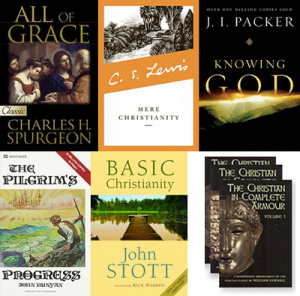 I have agonized over what should be included on a list entitled "5 Books Every Christian Should Read".  I have thousands of books in my own library, and a couple of dozen of them were serious contenders.  The longer the list, however, the more daunting it would be for someone starting out (either in the faith, or in a serious commitment to reading).
So I determined to keep it to five.  Well … almost, as you'll see at the bottom of the list.
The obvious disclaimer is that this is a list of books in addition to the Bible. Every Christian should not only read the Bible, but should do so continuously every day of their life.  In another post I want to propose a simple guide for the new Bible reader on how to get started.
One more word before the list. I have absolutely no doubt that as soon as I publish this post I will start to second guess myself about what I have not included. Rather than tamper with the list, which I really do believe is all essential stuff, I think the comments area would be a great place to add other recommendations and discuss them together. I invite you to add the books that you think should be included.
Here's my list …
5 Books Every Christian Should Read (at least once)
1. "All of Grace" by Charles Haddon Spurgeon
– What a wonderful short treatment of the gospel. Happily you can download a free .pdf version of the whole book right here on my blog. So no excuses … read it today!
2. "Mere Christianity" by C. S. Lewis
– This book will not only help you personally understand what is different about Christianity than any other religion in the world, it will also equip you for sharing the faith with others.
3. "Knowing God" by J. I. Packer
– Packer is one of the most well-known theologians in the world today. He has written many very scholarly books for pastors and seminarians, but he wrote this book for all Christians. It's become a classic because he has managed to make a core of theology very plain and readable by all. But it won't only bring you to understanding … it will bring you to worship.
4. "Pilgrims Progress" by John Bunyan
– More Christians know about this book than have actually read it through. That's sad, because it's such a rich preparation for the journey of the Christian life. It's an allegory; a fictional story used to teach real world truths.
5. "Basic Christianity" by John Stott
– In the preface, Stott contends that many modern people have not rejected the real Jesus Christ, the One presented on the pages of the Bible, but they have rejected the contemporary church and the muddled message it has presented about Him. This book brings us back to the Founder Himself, why He came, and how Christians ought to follow Him.
… I just can't help myself. When you've read those, I highly recommend "The Christian in Complete Armour" by William Gurnall.  Gurnall was a 17th Century Puritan, so if you pick up the original tome you'll probably be discouraged by the antiquated language, unless you're used to reading books from that period. Fortunately for us all, however, Banner of Truth books released a 3 volume paperback edition with updated language. They have done a remarkable job of retaining the author's work while making it very accessible to today's reader. I highly recommend this updated version.
Well there we have it. Leave your comments, favorable or otherwise, about the list, and give us your suggestions about what books have really impacted you.