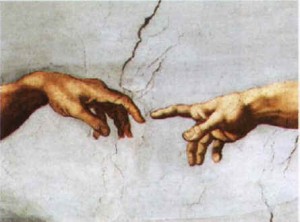 This is the next post in a series representing my participation in a project called "Mercy Mondays". Each Monday, Jenn LeBow is writing a prompt based on the glorious topic of "mercy", and she's inviting others to respond however they'd like to.  (You can read all the responses each week on Jenn's blog, and perhaps even get involved and offer your own thoughts.)
This week's prompt is:
"Singing of His Mercy"
"I will sing of the mercies of the LORD forever; With my mouth will I make known Your faithfulness to all generations." (Psalm 89:1)
I can't tell you how grateful I am for the way my mother embarrassed me as a teenager. All mothers embarrass their kids, I understand that. It's part of the prenatal training.  But it was the particular way she embarrassed me that is forever etched in me.
My mother is a hummer.  A hummer and a singer.
It didn't matter where we were or who was around, my mother was always humming or singing a hymn under her breath, but just a little too loudly to be inconspicuous.  In the checkout line at the grocery store was her favorite, but also in elevators, waiting rooms, restaurants … planes, trains and automobiles.  A library wouldn't have stopped her, and neither would a hospital or a funeral. (In fact, she also laughs uncontrollably at funerals – which can be a real problem when you're a minister's wife – but that's a story for another post.)
To this day it's hard to know how much of her singing she was even aware of. If you said, as I often did, "Mum, you're doing it again", she would give the impression that it was entirely force of habit, and that she was no more conscious of it than when someone changes gears in their car.
On the other hand, however, she was intimately connected to the songs. They were the soundtrack of her life, and the words may have been penned by others, but they bubbled up out of her own experience of God's faithfulness. Out of Divine goodness and mercy that followed her every day.
I live on the other side of the world these days, and don't get to see her nearly as often as a son should, but recently we spent a week together. It was in a hospital at the bedside of my father – her husband of nearly 60 years – as he went through surgery to remove a brain tumor. Another bump in the long road they've walked together.
She had a natural anxiety for my Dad, and a concern for everyone who was visiting and calling. But what was she doing continuously? Humming and singing. The same old wonderful songs as always.
It used to be embarrassing for a silly teenager who couldn't recognize the river of grace that was running over him. This time I found myself stepping a little closer to enjoy all the words, and I think once or twice I even joined in with her. If I did, though, it was automatic, so I'm not quite sure.
Isn't this exactly what the Psalmist was talking about? "I will sing of the mercies of the LORD forever; With my mouth will I make known Your faithfulness to all generations."
Teaching the Word of God to our children is essential. The stories, the truths, the doctrines of our faith. We must take pains to pass them along.
There is something about a song, however, especially when it is spontaneous and even unconscious, that conveys an authenticity of faith. It's what we know from the depths of our heart to be true. It passes over the parent's lips, and through the ears of the child, but these are the mechanics of the process that might as well not even exist. To all intents and purposes it is heart to heart communication of the great gospel of God.
Alli and I are hoping to embarrass our kids, the next generation, all the way along the road to eternal life.