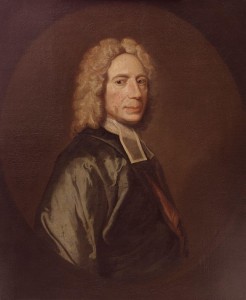 It's Sunday again. Each week I post short classic pieces from Christians whom God powerfully used down through the history of the church. Our focus today is on the hymnwriter Isaac Watts (1674-1748).
Usually the extracts I have posted have been from great sermons or books. So today is a little different: a hymn. But through the centuries God has conveyed His Word through music as well as speech, and it's been a marvelous blessing to the Church as truth and doctrine have been sung and thereby memorized.
It was a difficult thing to select just one hymn out of the hundreds of outstanding examples that we have of Watts'. Note that this one has 18 stanzas. More recent hymn books were usually heavily edited down so that hymns had only 4 to 8 verses, but the originals were often much longer. A lot of great stuff was cut out!
In a recent post I wrote about How to Have a Transformational Quiet Time, I suggested that an old hymn book is an excellent  help. Watch soon for a special ebook I'll be offering on the download page that could be printed off and used in that way.  (UPDATE: That ebook is now available: "Hymns and Spiritual Songs – Book 1")
More about Isaac Watts follows at the bottom of this post, but first the selected hymn:
Go Worship At Immanuel's Feet
[Taken from "Hymns and Spiritual Songs, In Three Books" – Book 1, Hymn 146. Bearing the inscription: Characters of Christ, borrowed from inanimate things, in scripture.]
1 Go, worship at Immanuel's feet,
See in his face what wonders meet;
Earth is too narrow to express
His worth, his glory, or his grace.
2 The whole creation can afford
But some faint shadows of my Lord:
Nature to make his beauties known
Must mingle colours not her own.
3 Is he compar'd to wine or bread?
Dear Lord, our souls would thus be fed;
That flesh, that dying blood of thine,
Is bread of life, is heavenly wine.
4 Is he a tree? The world receives
Salvation from his healing leaves;
That righteous branch, that fruitful bough,
Is David's root and offspring too.
5 Is he a rose? Not Sharon yields
Such fragrancy in all her fields:
Or if the lily he assume,
The vallies bless the rich perfume.
6 Is he a vine? His heavenly root
Supplies the boughs with life and fruit:
O let a lasting union join
My soul the branch to Christ the vine:
7 Is he the head? Each member lives,
And owns the vital powers he gives;
The saints below, and saints above,
Join'd by his Spirit and his love.
8 Is he a fountain? There I bathe,
And heal the plague of sin and death
These waters all my soul renew,
And cleanse my spotted garments too.
9 Is he a fire? he'll purge my dross,
But the true gold sustains no loss;
Like a refiner shall he sit,
And tread the refuse with his feet.
10 Is he a rock? How firm he proves!
The rock of ages never moves;
Yet the sweet streams that from him flow
Attend us all the desert thro'.
11 Is he a way? He leads to God,
The path is drawn in lines of blood;
There would I walk with hope and zeal,
Till I arrive at Sion's hill.
12 Is he a door? I'll enter in
Behold the pastures large and green,
A paradise divinely fair,
None but the sheep have freedom there.
13 Is he design'd a corner-stone,
For men to build their heaven upon?
I'll make him my foundation too,
Nor fear the plots of hell below.
14 Is he a temple? I adore
Th'indwelling majesty and power;
And still to this most holy place,
Whene'er I pray, I turn my face.
15 Is he a star? He breaks the night,
Piercing the shades with dawning light;
I know his glories from afar,
I know the bright, the morning-star.
16 Is he a sun? His beams are grace,
His course is joy, and righteousness;
Nations rejoice when he appears
To chase their clouds, and dry their tears.
17 O let me climb those higher skies,
Where storms and darkness never rise!
There he displays his powers abroad,
And shines, and reigns th'incarnate God.
18 Nor earth, nor seas, nor sun, nor stars,
Nor heaven his full resemblance bears;
His beauties we can never trace,
Till we behold him face to face.
---
Isaac Watts (1674-1748)
Watts was born in Southampton, England to a non-conformist father who was twice imprisoned for his beliefs.  (Non-conformists were those Christians who, in the tradition of the Puritans, refused to become part of the Crown-controlled Anglican Church after the Act of Uniformity of 1662. This Act required all ministers be ordained as Anglican clergy and wear the prescribed vestments, and the form of worship services was to be mandated according to the Book of Common Prayer.)
Another consequence of being in a non-conformist family was that he was not permitted to attend Oxford or Cambridge, and had to study instead at the Dissenting Academy in Stoke Newington. He lived in this area for most of the remainder of his life, and became Pastor of a large independent Chapel.
He was not only a hymnwriter, but also an accomplished theologian and logician. He authored books in both of these disciplines. His depth of theological understanding is a rich feature of his hymns, and his training in logic is seen in their structure and balance.
It is the hymns themselves, however, that he is inevitably renowned for.  Such beloved hymns of the church as "When I Survey the Wondrous Cross" and "Our God Our Help in Ages Past" came from his quill.  He came to be known as "The Father of English Hymnody", and indeed, of the English hymnwriters, only Charles Wesley was more prolific.
---