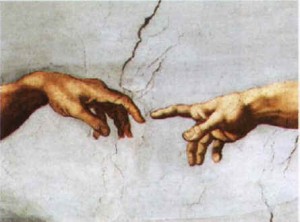 This is the next post in a series representing my participation in a project called "Mercy Mondays". Each Monday, Jenn LeBow is writing a prompt based on the glorious topic of "mercy", and she's inviting others to respond however they'd like to.  (You can read all the responses each week on Jenn's blog, and perhaps even get involved and offer your own thoughts.)
This week's prompt is:
"When Mercy is Pardon"
In 1830, a man named George Wilson was convicted of killing a government employee while robbing the U.S. Mail. He was tried and sentenced to be hanged. Andrew Jackson, then the President, issued a pardon for Wilson, but Wilson did a strange thing: he refused to accept the pardon.  No one seemed to know what to do.
The matter was referred to Chief Justice Marshall, arguably one of the greatest Chief Justices the United States has ever had. After deliberation, Marshall concluded that Wilson must be executed. "A pardon is a slip of paper," wrote Marshall, "the value of which is determined by the acceptance of the person to be pardoned. If it is refused, it is no pardon. George Wilson must be hanged."
And he was.
(SOURCE: George Maronge, Jr. Leadership, Vol. 12, no. 3.)
Presidential mercy is at more of a premium than ever before. Recent comparisons in the media show that there has been a decided drop in the number of pardons being granted. Franklin Roosevelt, for example, granted more than 2800 pardons in his 12 years in office. That number is more than 3 times the number of pardons granted by Bill Clinton, George W.Bush and Barack Obama combined.
God's mercy, on the other hand, is constant.
God has shown Himself infinitely more merciful than any benevolent president, or king, or queen. The Bible is full of examples of His willingness to forgive repentant sinners. It one of His great moral attributes; part of His divine nature.
2 Samuel 14:14 records the words of a woman brought in to convince King David to show mercy to his murdering son, Absolom. She appealed to the king on the basis of the great mercy of God:
"For we will surely die and become like water spilled on the ground, which cannot be gathered up again. Yet God does not take away a life; but He devises means, so that His banished ones are not expelled from Him."
What a glorious truth she spoke.  That God "devises means" so that He can be just and holy, and yet still show mercy.
Her words are a one line description of the whole gospel story.  We were sinners and, as such, unavoidably banished from God's presence.  Before making the expulsion eternally permanent, however, God made a way to bring us back. He "devised means"; an elaborate, history-altering, universe-shaking plan whereby He gave His own Son as our substitute. Jesus died in our place on the cross.
Mercy there was great, and grace was free.
Pardon there was multiplied to me.
There my burdened soul found liberty
At Calvary
And so, in Romans 3:26, the Apostle Paul makes the incredible observation that God has found a way to be BOTH "just and the Justifier of the one who has faith in Jesus."
But right there is "the George Wilson clause".
"… of the one who has faith in Jesus."
The merciful pardon is freely offered, "the value of which is determined by the acceptance of the person to be pardoned. If it is refused, it is no pardon."
When is mercy pardon?  When it is accepted.