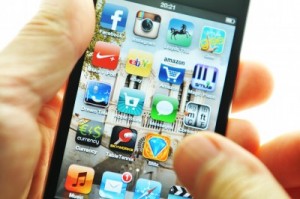 I'm always Googling this kind of list myself. I love to see what others are using, finding helpful and recommending. So I thought I'd post a list of the apps that I use daily that are specific to my life as a Christian.
Before I get to the list itself, some specs: My phone is a Motorola Photon 4G android. I also use a Samsung Galaxy Tab and run these same apps on both devices.  Although I am a droid user, most, if not all, of these apps are available for the iPhone.
1. YouVersion
The king of all Christian apps, it's being used by millions of people around the world in many languages. It's a completely free Bible reading program that gives you multiple versions of the Bible in both text and audio. I have found this to be excellent when driving in my car; at the click of a button I can have my morning reading replayed to me across my car stereo. And not in one of those horrible robotic automated voices, but a professionally recorded studio version.
YouVersion also includes hundreds of daily Bible reading programs to choose from. Select one, and the app will give you the assigned reading every day, send you emails of encouragement, and even reschedule the list if you fall behind.
You can type your own notes and attach them to the verses you've been reading, and if your church offers a group setup (also free) you can pull up your own pastor's preaching outline while sitting in the service. (We've been testing this with a few guinea pigs in our own church.)
Watch the promo video:
2. MySword
YouVersion is a fantastic basic Bible program, and one of it's great strengths is that it is so clean and uncluttered. They've stuck to the most basic things everyone wants.
As a pastor, however, I also want to have Bible commentaries and tools available on the go. This enables me to continue my weekend prep if I find myself with a spare 20 minutes in a waiting room somewhere. This is where MySword comes in; another completely free app! The Bible versions it has are very basic, but it has a number of the classic commentaries and other study tools, like original language lexicons.
If you've used e-Sword on your PC, you'll find the interface somewhat similar. I don't think the 2 are connected, but the developers of MySword have obviously been inspired by the desktop version.
3. Prayer List
Do you ever promise friends that you'll pray for their pressing need, only to see them a week later and get that pang of guilt because you forgot? Here's a very simple solution.
There are a few apps available for keeping a prayer list, but I've found most of them tend to be either very "religious" (lots of angelic icons, etc), or just too complicated.  Prayer List is very straightforward. Click a button and add the request. The main screen shows all the current requests as a simple list to scroll down in your prayer time.  When you're finally done with a prayer request, check the box next to it and click to either "delete" or send it to a "prayer answered" list (which becomes a wonderful record of God's faithfulness.)
Simple. Love it.
4. Private Diary
If you like to keep a daily journal in your quiet times with the Lord, this is a great app to use.
For notes on your discoveries in the Word, you can just enter them right into your YouVersion app as verse notes. But some things you may want to record are very personal. Prayers you've been praying, and sins you've been wrestling with. Private Diary is simple to use, and always a requires a password to access. It's like having a padlock on your moleskin!
You can add a photo or image in any entry, and even an emoticon. Feeling joyful about your note? Put a smiley face. You can also click a button and the app will record the location where you were when you entered the note.
When you open the app with your password, you will immediately see a list of all your entries in date order, with the most recent at the top. And you can add "tags" on every entry and then later on call up a list of your daily notes compiled in your own defined categories.
5. Nook
You no longer have to own a dedicated "Nook" device, you can have the app right on your android.  (Okay, settle down you Kindle lovers … you can get a Kindle app too if that's your preference.)
I have scores of great books that I've purchased online through the Barnes & Noble website. That entire library is stored in their cloud, and I can access it now from my Nook, my tablet, my phone or my PC.  And wherever I finish reading is automatically bookmarked so that whatever device I pick up next will open to the next page. How cool is that!
So those are my "Top 5" apps that I'm constantly using.
Here are a few other great apps on my devices right now …
Faith's Checkbook
Daily devotional apps are very popular. This is one of my favorites. The old classic by Charles Haddon Spurgeon.  It's been available in print for many years. Now at the click of a button I can read the devotional thought for today by "the prince of preachers".
Funny Church Signs
Okay, this one is purely for comic relief. Over 240 church signs seen around the country.  Some are hysterical.
Evernote
I couldn't finish the list without mentioning this one.  It's a general purpose app that you can use in all areas of your life, not just spiritual growth. Evernote is a very powerful suite of tools used for notetaking and archiving, and it can be synced across all your devices.
It's like a huge filing cabinet, but with load of tools to help you organize every document in your life. It works on a system of personalized "notebooks" which you can create for absolutely anything you want to track.
I highly recommend you check it out. You can watch a whole series of tutorial videos on YouTube.  Like the other apps I've mentioned, Evernote is free.
That's it. Hope I've pointed you to something you didn't already know about, and that you find them useful.
Want to share your own finds with us?  Leave a comment.