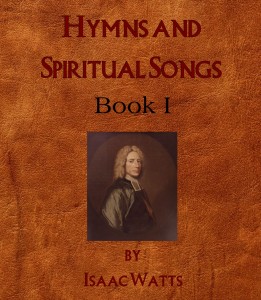 Announcing a brand new free eBook ready for you to download.
Recently I published a blog post about "How to Have a Transformational Quiet Time". One of the things I recommended in that post was to bring an old hymn book with you to prayer, and to use the hymns as prayers of worship.
Then, inspired by writing that, on Sunday I published a "Dead Guy University" post and featured a great hymn by Isaac Watts, "Go Worship at Immanuel's Feet."
Well, this whole idea just wouldn't seem to leave me alone, so I've now published the 1st Volume of Isaac Watt's classic 3 book set, "Hymns and Spiritual Songs".  This is a marvelous hymn book, but even more than that, it is a rich theological resource.
I encourage you to download it, perhaps even print it off, use it as your companion in private worship, and pass it along to others. (CLICK HERE).
It will continue to be made available on our DOWNLOAD PAGE.