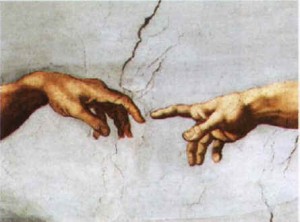 Here is my latest contribution in a series called "Mercy Mondays". Each Monday, Jenn LeBow is writing a prompt based on the glorious topic of "mercy", and she's inviting others to respond with posts on their own blogs.  (You can read all the responses each week on Jenn's blog, and it's not too late to even get involved and offer your own thoughts.)
This week's prompt is:
"When Mercy is Compassion"
The account of Jesus' compassion that we have in the gospel of Matthew is stunning. Matthew goes to great pains to repeatedly tell us of the exhaustive way that Jesus ministered to needs. He tells us over and over that Jesus (1) was moved with compassion, and (2) that His compassion moved Him to minister to every need brought to Him. "He healed them ALL" … "they ALL were fed".
Take a look yourself: Matthew 4:24 … 8:16 … 9:35-36 … 11:28 … 12:15 … 14:14 … 14:20 … 14:35-36 … 15:32 … 15:37… 20:34.
I struggled to think of one outstanding act of compassion God has shown to me that I would want to write specifically about in this post. That is not to say that there haven't been any; quite the opposite –there have been SO many. As I look back on my life it's not a matter of identifying where God's compassionate mercy has met me, but rather where it hasn't.
What stands out to me about the compassion of God toward me is its constancy. In great moments of need, and also in the smallest ways that almost go unnoticed.
To my shame, compassion for others ebbs and flows in my life. Some days I'm just in a compassionate "mood", I guess. That's the day the fundraising telemarketers want to catch me. Other days I hang up before the end of the first sentence. Worse still, I could listen to their whole spiel, and still hang up, unmoved.
Standing in stark contrast is this enormous compassion of Jesus.
He healed them all.
He fed them all.
In her own Mercy Mondays post today, Jenn LeBow writes,
I wonder sometimes what happened after Jesus healed people.  We read about Him, of course.  He healed and went on to the next town, the next synagogue, the next hillside crowd waiting to hear from Him.  What did the healed person do next?  There doesn't seem to be any follow-up program initiated by Jesus and the Twelve. No synagogue small group to plug into, no Unclean Anonymous steps to follow, no job training or counseling.

Jesus seems to trust that everything will work out once they have received faith in Him and healing from Him.
Yes. It occurs to me that Jesus moved on knowing that the Holy Spirit would be continuing the work in individual lives. We need a smidgeon of that trust, and to thereby rest in the knowledge that there is only one Savior of the world, and it's not us. But that "a cup of cold water offered in His name" matters. Each compassionate touch is a thread, and God is the One ultimately weaving the tapestries of mercy that blanket people's lives.
When we share the gospel story, we understand the principle "one sows, another waters, it is God who gives the increase" (1 Corinthians 3:6-7).  What a relief to know that the same God co-ordinates compassionate acts as well as evangelistic words. He is the Living Stream, we are simply the water carriers.
Jesus said, "My Father is always working" (John 5:17, NIV)
In Psalm 121 we read the confidence of the Psalmist that allowed him to retire each night in peace, "He who keeps Israel shall neither slumber nor sleep".
So, I am gloriously both ON and OFF the hook today. I am "on the hook" to pay forward the great compassion of God to others because every single instance matters. I am "off the hook" from carrying the paralyzing burden that the world's need is just too great for one little me to make any difference. That's God's business, not mine.