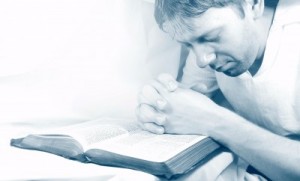 Have you recently become a follower of Jesus? Or are you trying to help someone else who has? This blog post is for you.
Recently I wrote about How To Have a Transformational Quiet Time, and stressed the importance of having a definite reading plan so that you are working your way through your Bible in some systematic way.  There are lots of different plans available, and which one you choose is not usually as important as the fact that you do get started with one and stick to it.
The exception to this is someone who has recently become a Christian, and is starting to read their Bible for the first time. In these early stages, some plans of reading are going to be more helpful than others. This is a question pastors are often asked about: "Where do I start? Do I just pick up the Bible and start at page 1 like any other book?"
Let me first say that many people have done just that, and have grown strong in their Christian walk as a result. I think, however, there are good reasons for taking a little different approach. Here's what I suggest:
1. If you are attending a church, and the pastor or leaders have supplied you with a Bible reading plan, my advice is that you needn't read any further here. Follow their guidance. I say this because the plan that they have given you may be part of their program for helping you get established in the faith.
2. If you haven't been given specific advice by your church about where to start reading, I recommend you begin with the New Testament.  Where better to begin than reading about the Founder of your new faith, Jesus. The New Testament includes the accounts about His life and teaching, followed by the writings of His earliest followers.
3. The first four books of the New Testament are the gospels: Matthew, Mark, Luke and John. They are four different perspectives on the story of Jesus's life; like four witnesses each giving their account. They focus on different things, and as we read them all we get a full picture. I recommend you read two of these gospels to begin with. First, read the gospel of Mark. It was the earliest gospel written; it is the shortest and the most basic. Then read the gospel of Luke, which is much longer and contains many more details than the other gospels.
4. There's another reason for reading Luke in second place. Because Luke is a kind of "Volume 1 of a 2 volume set". Luke followed up his gospel about the life of Jesus by writing the earliest history of the first days of the Christian church. He tells the story of what happened when the disciples of Jesus began to teach about Him all over the world.  So after you've finished Luke's gospel, go right to this second part of the story, the book of Acts, and keep reading.
5. Once you've finished Acts, go on ahead and read the rest of the New Testament which is made up of a series of letters written by leaders in the early church. But stop reading after the letter of Jude. (We'll come back to the last book, the Book of Revelation, soon enough.)
6. Now go back and start at the beginning of the New Testament, the Book of Matthew. This time, don't skip anything. Read the entire New Testament: Matthew to Revelation.
7. Finally go all the way back to Genesis and read through the entire Bible.
So, here's the plan I'm recommending written out for you in summary …
Mark
Luke
Acts
Romans to Jude
Matthew to Revelation
Genesis to Revelation
How much should you read each day?
There's no "one-size-fits-all" answer to that question. The thing is to read so that you're making good progress getting through the Bible, but without reading so much that you get overwhelmed with information. My recommendation is a couple of chapters each day.
If you were to read 3 chapters each day, it's going to take you about 18 months to complete the program I've outlined. At the end you'll have read the Bible completely through once, and the New Testament almost 3 times. If you read 2 chapters each day, it's going to take you a little more than 2 years to do the same.
Getting it finished is not the point (although it is a wonderful achievement). The real goal however is to be growing in your understanding of God and His purposes all along the way. Once you finish the outlined program, you are still really just beginning. For the rest of your life you will want to keep reading through the Bible continuously. As we've already said, there are then lots of different plans you can choose from to guide you.
Pray every day, and ask the Holy Spirit to guide and help you as you read. Be in church every Sunday and listen carefully to your pastor explaining the meaning of Bible passages. And ask about joining a small group or Sunday School class at your church where you can ask questions as you study the Bible alongside other Christians.
One final comment. Make sure you read the Bible in a version you can readily understand. I recommend you start with either the English Standard Version (ESV) or the New International Version (NIV).
If I can ever be of help to you, please don't hesitate to email me via our Contact Page.