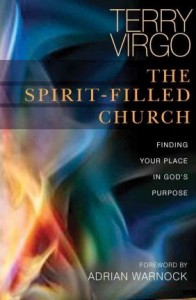 The ancient Greeks devised a very unique instrument known as an "Ayolian Harp". It is still handcrafted in very small numbers today. Its uniqueness is that it's a stringed instrument that is not designed to be played by human hands. It's placed in a window in the same way that someone might position a wind-chime. As the wind passes through the strings it produces a beautiful music.
I thought of that as I finished reading Terry Virgo's recent book, "The Spirit-Filled Church".  I had the impression that I'd been listening to a kind of Ayolian music. Refreshingly light and joy-filled, this book is full of spiritual life and vitality. The author writes from the position of standing in the breeze of the presence of God's Spirit.
From the title you might expect one of those "model" books. You know, a "how-to" book for church leaders. We've had the Seeker-Sensitive model, and the Purpose-Driven model, and the Cell-Church model, and the Natural-Church-Development model … shall I keep going?  There are dozens more we could mention. Our bookshelves are lined with them, and each one has had their own conference for their devotees.
The "Spirit-Filled Church" is something else, however. This book will be a wonderful inspiration and help for church leaders, I have no doubt, but it has as much to say to entire congregations. It's not a "how-to" book, but rather a description of New Testament church life, an appeal for dependence on the Spirit, and an invitation for us to enter in to "taste and see that the Lord is good."
You will not find this book encumbered by an apologetic for continuationism. The author disarmingly assumes that. If you need to be convinced to lay down cessationism, this is not your book. There are other books out there; read those first. Terry Virgo writes for those who've already left the barrenness of that road, and for those who've simply read the Bible and were never bothered by it in the first place.
At the same time it is not a "giddy" Charismatic romp, violating the Scriptures at every turn. It is thoroughly grounded in the Word of God. Sprinkled through the pages are quotes from some of our favorite preachers and writers: D.Martyn Lloyd-Jones, John Stott, J.I.Packer, et al. Men who, themselves, may have written a very different book than Virgo, but who were not "armchair puritans", like so many that we read today; enslaved to some version of a stodgy Reformed tradition that stalled somewhere in the 17th Century. No, these beloved men that Virgo quotes themselves often appealed to us to pursue the reality of the Christian life in the power of the Holy Spirit.
The first half of the book details Terry Virgo's own experience of church, from his earlier days as a reserved young Englishman desperately hungering for God's help to break out from his own fears and preach the gospel. His life was changed forever by the baptism in the Holy Spirit. He is convinced that the early church we read about in Acts is a model for the church in all ages, and he has witnessed God moving today in healings and miracles.
His chapter on "Transforming Grace" is a tonic for today's church, so often bound in subtle forms of legalism, even while insisting that they preach grace. Virgo writes, "All evangelicals know that they can never be justified by the law, but what they fail to realize is that they cannot be sanctified by it either." (p.57)
The second half of the book enumerates a number of characteristics crucial to New Testament churches:
Genuine community centered in vibrant small groups
Concern for social justice
Prayer, and
Strong leadership.
Terry Virgo gives a list of the delicious ingredients of a truly Spirit-filled and led church, without insisting on one recipe for how the ingredients should be baked together. He is committed to the sovereignty of the Spirit in local churches, and doesn't violate that by over-prescribing a particular methodology.
This is a book about multiplying truly powerful churches for the glory of God. With over 850 churches worldwide partnering together in the movement that he founded and continues to lead, the proof is surely in the pudding.
I could go on a lot longer, but your time would be better invested reading the book itself. I highly recommend it to Christians everywhere.  Thankyou Terry!
[Available in Kindle & Nook versions for instant download]