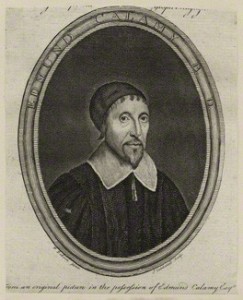 Once more we turn to the past to stand on the shoulders of giants. Each Sunday I post classic pieces from Christian preachers and leaders throughout church history. Today we look at a prayer that came out of a dark moment in Britain. A prayer of Edmund Calamy (1600-1666).
The occasion of the prayer was the tumult of "The Great Ejection".  In 1662, the English Parliament passed the "Act of Uniformity" requiring all church ministers to conduct services in accordance with the Book of Common Prayer, to wear the prescribed vestments, and that they must receive episcopal ordination if they hadn't already. The Act stipulated that failure to comply by St. Bartholomew's day of that year would mean removal from their pulpits.
Compliance with the Act would require many to go against conscience and agree to a mere religious formalism. They also saw it as leading to a censuring of the pulpit by the state. In the end more than 2000 dissenting ministers refused and were ejected from their churches; Puritans, many of them were among the finest preachers and theologians Britain ever produced. A number were to spend times in prison for continuing to preach without license. John Bunyan, for example, wrote his famous "Pilgrim's Progress" while in jail as a dissenter.
On that "Black Bartholomew's Day", as it came to be known, godly ministers across the land preached "farewell sermons" to their congregations. Some of these have been collected over the years in a few different anthologies. One such more recent work is "Sermons of the Great Ejection", republished recently by Banner of Truth for the 350 year anniversary of terrible event.
With this history as the backdrop we turn to one Puritan preacher's public prayer for his congregation and their country in the lead up to this upheaval. Edmund Calamy was one of the Westminster Divines, the Assembly that prepared the Westminster Confession of faith. For a time he served as chaplain to King Charles II, and was offered the bishopric of Coventry and Lichfield, which he declined. Then came the Great Ejection, and Calamy was among those forced to resign.
Edmund Calamy's Prayer at Aldermanbury
Oh most Holy, thou ever blessed Lord God, thou fillest heaven and earth with thy presence. We pray thee fill all our hearts with the presence of thy grace, and let it appear that thou art in the midst of us, with that powerful assistance of thy Spirit, that we may receive a token of love from thee at this time.  It is a singular favour that the doors of thy sanctuary are open to us and that we might meet together in thy name.  We pray thee continue it to us, and sanctify it to us, that every Sabbath may add to our stature in Jesus Christ.
We confess we have forfeited all our mercies; we have heard much of God, Christ and heaven with our ears, but there is little of God, Christ and heaven in our hearts.  We confess, many of us by hearing sermons, are grown  sermon-proof; we know how to scoff and mock at sermons, but we know not how to live sermons.
It is a miracle of free grace thou hast not taken thy gospel from us ere this time, but thou art a merciful God, and though we cannot please thee, yet mercy pleases thee; and we have no argument to bring along with us to beg thy favour but thy mercy in Jesus Christ. We pray thee that thou wilt glorify thy sovereignty, in being gracious to us, and pardon our many and great transgressions.
Thou makest use of the malice of men for thy glory; thou killest Goliath with his own sword. Oh, help us to put our trust in thee, thou that canst kill, and cure by killing.
Bless these nations of England, Scotland and Ireland, and find out yet a way to save us. Pour down thy blessing upon the head and heart of our sovereign, Charles, by thy grace, King of Great Britain. Thou hast done great things for him; let him do great things for thee. Bless him in his royal consort, in his royal relations, in his council; bless the magistrates and ministers of this realm.
Lord, forgive us, for we live as if we had been delivered to work wickedness. We cannot sin at so cheap a rate as others do. We pray thee humble us under our great and grievous sins. Give us repentance unto salvation and a lively faith through the blood of Jesus Christ.  Quicken our graces, forgive our sins, make alive our souls. Let us be such as thou wilt have us to be. Make us Christians not only by outward profession, but an inward heart-experience, that we may live in heaven while we are on earth and come to heaven when we shall leave the earth.
To that purpose bless thy Word unto us at this time, and give us all grace to make conscience of what we hear and how we hear; and all for Jesus Christ's sake, to whom with all thy blessed self and Spirit be all glory and honour, Amen.