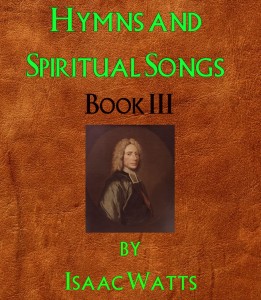 Here's the final installment of this wonderful 3 Volume eBook set, ready for you to download.
Over the past 2 weeks I released Volume 1 and Volume 2 of "Hymns and Spiritual Songs" by Isaac Watts, and this week I'm very pleased to bring you the 3rd Volume that completes the set.
It's a free download, easily printable, and ready for use as your companion in private worship. (CLICK HERE).
It will continue to be made available on our DOWNLOAD PAGE.