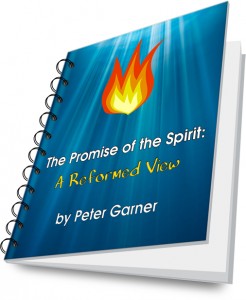 Today I'm releasing a truly special little eBook available for free instant download (just CLICK HERE).
"The Promise of the Spirit: A Reformed View", by Peter Garner, first came into my hands back in 1991. It was mailed to me by a friend as a small typewritten and photocopied booklet. To my knowledge it has never been published.
I have tried to contact the author, but with no success to date. I understand that he was an Anglican minister in England, who was very involved in the Charismatic renewal. It's very likely that, if indeed he hasn't gone to be with the Lord, he would be retired by now.
This eBook is a gem. In it, Peter Garner — coming himself from a Reformed theological position — surveys the Scriptures and produces a compelling apologetic for the baptism in the Holy Spirit.
Just 50 pages in length, this is a wonderful Bible study that will inspire, encourage and challenge you.
I hope you'll download it, and distribute it freely and  widely. You can email it to a friend, or just send a link for people to get it right here on the blog. It will remain available on our download page.