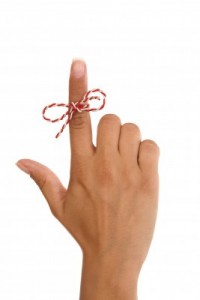 Anyone can memorize Scripture. It's simply a myth that remembering passages of the Bible is a special ability bestowed on a chosen few.
The question is not "Can I memorize Scripture?" but "Do WANT to?" If our desire is strong enough, we can all do it.
Why Should We Memorize Scripture?
There are a number of good reasons. Here are just a few:
It is a primary key to holy living. The Psalmist said, "Your word I have hidden in my heart, That I might not sin against You." (Psalm 119:11) When Jesus was being tempted by Satan in the wilderness, He overcame him with memorized Scripture (Luke 4). The enemy always flees when he is resisted using the "sword of the Spirit", the truth of God's Word.
It's our means of guidance. "Your word is a lamp to my feet, and a light to my path." (Psalm 119:105) Being able to recall from memory key selections of the Word of God will be invaluable when faced with momentary decisions day by day. You may need to make an important choice without the luxury of time to do an in depth Bible study.
It prepares us to share the gospel with others. Debating and reasoning have their place, but can be quite ineffective in reaching the conscience of a person. But the Word of God is "living and powerful, and sharper than any two-edged sword, piercing even to the division of soul and spirit, and of joints and marrow, and is a discerner of the thoughts and intents of the heart." (Hebrews 4:12) The Holy Spirit works with and confirms the Word spoken (Mark 16:20).
It's a wonderful source of comfort (Romans 15:4). When facing one of the storms of life, what a blessing to have the promises of God that you've stored away in memory streaming to your heart and bringing strength and hope.
It is a sacred deposit for time and eternity. Consider this: your knowledge of the Bible will go with you to heaven. Many other topics of learning are valuable for life on earth, but will become quite useless in the next life. What use will medical understanding be in a place where there is no sickness? Or an economics degree in a place where the old systems of this world are replaced by a completely new order? But "the Word of the Lord endures forever" (1 Peter 1:25)
HOW to Memorize Scripture
What's the best method to use? First, let's be clear on one point. There are some helpful tips, but you can't replace hard work and repetition. It does require diligent effort, but the pay-off will be well worth all the time you invest.
Studies have shown that we remember 10% of what we hear, 50% of what we see, 70% of what we say, and 90% of what we do. So, with that in mind here are some tips involving all of these things:
Write out the Scripture several times on a piece of paper. Engaging the brain in the act of eye-hand co-ordination that's required whenever you write something down greatly assists in memorization.
Write out the Scripture on a 3 x 5 card. Once you've written it repeatedly, make a final copy on a card that you can carry with you to look at and read over regularly.
Say the words out loud as you read from the card. This gets the message through both the eye-gate and the ear-gate.
Every time you read or say the Scripture, read or say the reference as well. This will help you avoid the frustration of "I know what the Bible says, I just can't remember where!"
Don't rush to try and memorize too many portions at once. You will probably confuse the words of the Scriptures. Why not commit to learning one new Scripture every week. Work on it daily, and at the end of the year you will have 52 portions committed firmly to memory.
What Scriptures Should You Memorize?
All Scripture is profitable (2 Timothy 3:16), so you can't really go wrong memorizing ANY part of it. There may be some key passages, however, that it would be good to prioritize. Here's a suggested list to get you started:
Psalm 14:1
Psalm 119:105
Proverbs 3:5-6
Proverbs 9:10
Isaiah 53:5
Isaiah 55:7-9
Matthew 6:33
Matthew 28:18-20
Luke 6:38
Luke 11:9-10
John 3:16
John 10:10
John 13:34-35
Acts 1:8
Romans 1:16
Romans 3:23
Romans 5:6-8
Romans 8:28
Romans 8:38-39
Romans 10:9
1 Corinthians 1:26-29
1 Corinthians 2:14
1 Corinthians 10:13
2 Corinthians 5:17
Galatians 2:20
Galatians 5:22-23
Ephesians 2:8-10
Ephesians 5:18-21
Ephesians 6:12
Philippians 4:6-8
Philippians 4:13
2 Timothy 1:7
2 Timothy 3:16
Hebrews 4:12
Hebrews 10:25
Hebrews 11:6
James 1:5-8
James 1:22
James 4:6-7
1 Peter 4:6-7
1 John 1:9
Revelation 12:11
Up for a Few Longer Passages?
Exodus 20:1-17 (The Ten Commandments)
Psalm 23 (The Shepherd's Psalm)
Ecclesiastes 3:1-8 (A Time for Everything)
Matthew 5:3-12 (The Beatitudes)
Matthew 6:9-13 (The Disciples' Prayer)
Philippians 2:5-11 (Jesus, the Humble Servant)