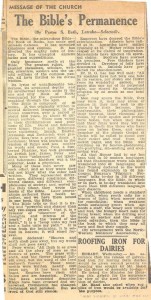 Yesterday I wrote about the value of Bible memorization, with a few tips on how to do it. Continuing with the theme of the Bible, the following piece is taken from a newspaper cutting from around 1948. The cutting was tucked away in an old book that I picked up in a used book store in Latrobe, Tasmania, some years ago. I was leafing through the book the other day, and it fluttered out. I enjoyed reading it, and thought you might too.
The Bible's Permanence
By Pastor S. Bath, Latrobe, Tasmania (Circa 1948)
The Bible – the miraculous Bible – the Book of Books, has made and unmade nations. It has uprooted kingdoms and empires. It has diverted the mighty tides of history. It has crumpled ancient faiths and superstitions.
Only ignorance scoffs at the Bible. The greatest rulers, the greatest statesmen, scholars, writers, scientists, soldiers and the untold millions of the common people, all have thrilled to its divine wisdom.
Its lyrics of unfathomable tenderness, its emotional depths and intellectual heights make it the one and only Book of Books vouchsafed for the guidance of mankind through the ages.
The Bible is composed of 66 books. It was originally written in several different languages, in different countries, over a period of about 1600 years, by about 40 different authors. These men varied in their circumstances and positions of life. David and Solomon were kings; Daniel and Nehemiah were statesmen; Isaiah, Ezekiel, Jeremiah and Zachariah were prophets; Ezra was a priest; Amos was a herdsman; Moses was learned in the wisdom of Egypt and was mighty in words and deeds; Paul, a converted Pharisee, was well grounded in Jewish law; James, Peter and John were "unlearned" and ignorant fishermen; Matthew was a tax collector, Luke a physician.
Many of these men never saw each other, and as they wrote they did not know what the other had written. They represented different ages, different conditions, different classes, and different complications of society; and moved by the Holy Ghost, they wrote the books of the Bible. Later generations gathered these books together, and we have them bound in one book, the Bible.
The Bible tells us that it is living and "powerful and sharper than any two-edged sword," that it is a revealer or "discerner of the thoughts and intents of the heart." It is the "sword of the Spirit," it is a "lamp unto my feet and a light unto my path." It is true from the beginning, it is settled in heaven; it will stand forever.
Jesus declared: "Heaven and earth shall pass away, but My words shall not pass away."
Peter wrote: "All flesh is as grass and all the glory of men as the flowers of grass. The grass withereth, and the flower thereof falleth away, but the word of the Lord endureth forever." Those statements were written nearly 2000 years ago. It has been no idle boast. Empires have risen and fallen and are forgotten. Dynasties have succeeded dynasties. Kings have been crowned and uncrowned. Civilization has changed, rechanged and perished. But the word of God still stands.
Emperors have decreed the Bible's extermination. Atheists have railed at it. Agnostics have smiled cynically at it. Higher critics have carped at its claims of inspiration. Materialists have ignored its spiritual claims. Scoffers have scorned its promises. Free thinkers have derided it. Devotees of folly have denounced it. Infidels have predicted its abandonment.
Dr. R.G. Lee has well said: "All its enemies have not torn one hole in its vesture, nor stolen one flower from its wonderful garden, nor made dim one ray of its perpetual light, nor stayed its triumphant progress by so much as one brief hour."
Men may spurn the Bible, they may burn it, they may abuse or misuse it; they may seek to disprove it by their lexicons, their mathematics, their philosophies, their theories, their chemical formulas, by their spades and prehistoric bones, but when they have said their final word they will lie down in death like those who have gone on before them, and some preacher of the simple Gospel of Christ will be called to stand over their casket and read from its sacred pages, and the Bible will continue on its heaven-gladdening, life-purifying, sin-smiting and soul-saving way.
All that Homer had to say has been told in 20 modern languages; all that Shakespeare wrote has been translated into 40 languages; all that Tolstoy declared to the world has found expression in 60 languages; Bunyan's "Pilgrim's Progress" talks today in 118 different languages. But the Bible, in whole or in part, is today translated into more than 1000* different languages and dialects.
When childhood needs a standard of truth; when youth calls for a beacon of light; when sorrow cried for consolation; when weakness needs sustaining grace; when age needs a staff, the weary seek refuge and rest, the hungry heart calls for living bread; when the drifting soul needs an anchor and the sinful need salvation, then  the Bible is the book to which they may all turn and find their supply.
(By arrangement with the North-Western Ministers' Association)
*As of 2012, the number is over 4000 (Source: Wycliffe Bible Translators)