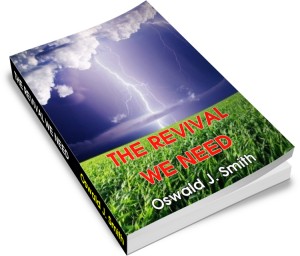 I have another classic eBook for you today. Download it absolutely free (see link below).
"The Revival We Need", by Oswald J. Smith, was first published in 1925. The author was Founding Pastor of The People's Church in Toronto, Canada, and a missionary statesman who raised millions of dollars for the work of world evangelization. Over the course of 80 years he preached more than 12,000 sermons in more than 80 countries.
"Mr. Smith's book, 'The Revival We Need,' for its size is the most powerful plea for revival I have ever read. He has truly been led by the Spirit of God in preparing it."
(From the Foreword by Jonathan Goforth)
Download it now, (just CLICK HERE) and distribute it freely and widely. You can email it to a friend, or just send a link for people to get it right here on the blog. It will remain available on our download page.