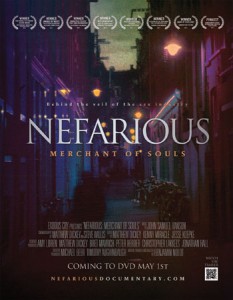 For the past 2 years I've been involved with organizing an annual missions awareness and training day for pastors and church leaders. Our third event in March of 2013 will focus on the horrific worldwide industry of human trafficking. In preparation for this I was asked to watch the newly released, multiple award winning documentary, "Nefarious: Merchant of Souls".
The film's Producer and Director, Benjamin Nolot, and his team traveled the globe and captured more than 800 hours of footage. They interviewed both victims and perpetrators, as well as some of those who are working to rescue captives and end this plague. It is compelling viewing.
It's estimated that more than 27 million people are enslaved worldwide; most of them young women, many of them children. Awareness of this issue has been growing over the past few years as Christian and other justice agencies have worked tirelessly to put the spotlight on it. The film"Taken", a major motion picture starring Liam Neeson, brought it before a massive audience.
Knowing something about the issue in advance, however, does little to prepare you for what the documentary uncovers. This is revealed to be a intricately complex problem with multiple contributing causes and numerous different faces.
The title is apt: "Nefarious". The word means "extremely wicked or villanous; iniquitous".
You can't watch this film and not be struck by the depths of human depravity. By the suffering men are capable of subjecting others to for personal gain. As I watched the film, the words of Jesus kept coming back to me again and again, "Whoever causes one of these little ones who believe in Me to sin, it would be better for him if a millstone were hung around his neck, and he were drowned in the depth of the sea." (Matthew 18:6)
It will make you sad, frightened, and angry in turns. But at the film's end it will also turn you toward the great, wonderful and only hope: the gospel of Jesus Christ. There are things that can be done politically and legislatively, and these are discussed. But the real light that beams into the final scenes comes from the testimonies of former captives who have been rescued and transformed by coming to know Jesus.
I urge you to buy this film and watch it. It's not a popcorn and candy movie for a friday night with the family, and in fact you won't be able to say afterward that you "enjoyed" it. It will impact you, however, and I'm willing to bet you'll be glad you saw it.
In a previous century, William Wilberforce worked indefatigably to abolish the wicked slave trade of Africans to the colonies. He wrote:
"If to be feeling alive to the sufferings of my fellow creatures is to be a fanatic, then I am one of the most incurable fanatics ever permitted to be at large."
Borrowing from Wilberforce, the film's Director, Benjamin Nolot, challenges us:
"The crisis of modern-day sex slavery does not need interested observers. It needs incurable fanatics."
The film ends with practical things that can be done in response. You'll want to take action, and you can.
Watch the trailer …