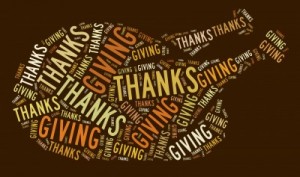 Since coming to the United States in 2003, Thanksgiving has come to be a favorite holiday to me. I love that (despite the marketers' best efforts) it still hasn't been commercialized like Christmas and Easter. It's not about gifts and shopping, it's about pausing to appreciate the providence of God and praise Him for it, and to spend time with the family and friends He has given.
I've been reflecting on all the many things I personally have to give thanks for again this year. Here are my Top 5:
1. God's Great and Continuing Grace To Me, The Chief of Sinners.
Amazing grace, how sweet the sound,
That saved a wretch like me.
I once was lost but now am found,
Was blind but now I see.
Jesus alone is the Author and Finisher of my faith. He rescued me. He keeps me. I will be eternally grateful.
2. My Wife and Children.
The greatest gifts in our lives are not things, but our loved ones. 23 years ago God blessed me with the most loyal, loving, helpful, fun partner to walk through life with. I don't know where I'd be without Alli (I'd certainly be 50 pounds lighter … she's an awesome cook!)
AND God gave me four of the coolest kids you could ask to have in your house. I'm so proud of each one of them.
3. My Gospel Heritage.
I thank God I was born not just into a "Christian country" (which seems to mean less and less year by year), but God placed me in a committed Christian family, with parents who love God passionately. My grandfather was rescued by the Lord from sin and the bondage of alcohol, and raised to be a preacher of the glorious gospel of Jesus. And so the line began. I am SO privileged … so indebted … for the truth I was raised in.
4. The Freedoms We Still Enjoy in America.
We live in very testing times, and there are many problems and pitfalls that this nation is facing. BUT, as of today I can still walk into our pulpit and preach the Word of God without fear, favor or compromise. I will not be arrested, but protected by the law of the land. I can still stand on any street corner and share the good news of Jesus without harassment.
These are privileges we must not take for granted. Millions of Christians around the world would give anything for such freedoms. Let's thank God we have them, and do something WITH them while ever we still can.
5. The Fact That I'm NOT Having My "Best Life NOW".
All these wonderful blessings, but the best is yet to come!  "No eye has seen, no ear has heard, no mind has conceived, what God has prepared for those who love Him." (1 Corinthians 2:9)
I'm thankful for SO many things in my life, but my heart is not ultimately set on or satisfied with anything in this world. I'm living for eternity. And the true joys of life … the presence of God, and the blessings of family … we get to take with us. Nothing else is worth getting anxious about.
Happy Thanksgiving!