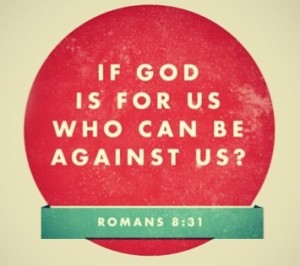 We know the Bible's promise "If God is for us, who can be against us?" (Romans 8:31). The question is: how can I know whether God IS for me?
In a general sense, if you have repented of sin and self, and put all your trust in Jesus as your Savior, God is for you. The hostility between you and God has been removed and you are reconciled to God. His wrath against sin has been averted by Jesus' sacrifice. God is for us who believe!
But it's possible to make decisions as a Christian that God cannot honor because they are contrary to His Word. We can be saved, and yet hinder the blessing of God by how we live. Life then becomes the struggle of our own making.
There are 2 simple secrets to walking in the full blessing of God. One is "responsive" and the other is "proactive":
1. RESPONSIVELY: Obedience brings God's blessing.
Quite simply that means that whatever God has said, you obey. Has God said something in His Word? Have you sensed God speaking to your heart? Get the "Nike attitude" and "Just Do It!" Right through the Bible we are confronted with this truth: obedience brings God's blessing.
2. PROACTIVELY: Love what God loves.
Too often we ask the question: "How can I get God's blessing on what I'm doing?"  But that is entirely the wrong question!  God's plans for HIS glory are the central thing – not our plans. So the right question we should ask is the reverse … "How can I do what God is blessing?"
In other words, find out what are God's priorities in this world, and make those your priorities. He will bless you as you do. God loves on people who love what He loves.
So walking in God's blessing is no great mystery. It's simply a matter of doing what He says and loving what He loves. Or in the words of Jesus:
"If you keep My commandments, you will abide in My love, just as I have kept My Father's commandments and abide in His love."  (John 15:10)