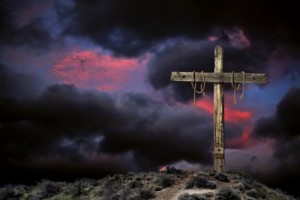 "He who did not spare His own Son, but delivered Him up for us all …" (Romans 8:32)
Look at that phrase: "did not spare". It's made up of two Greek words … "pheidomai ou", literally "spared not". It means "to not act leniently, to not hold back".
But to really get the full picture of what it is saying, just take a look at how that same Greek phrase is used twice in 2 Peter 2:4-5 …
"For if God did not spare the angels who sinned, but cast them down to hell and delivered them into chains of darkness, to be reserved for judgment; and did not spare the ancient world, but saved Noah, one of eight people, a preacher of righteousness, bringing in the flood on the world of the ungodly;"
Get the picture? When there was war in heaven, God "did not spare" Lucifer and his cohorts. He cast them out. He banished them and created the lake of fire for their eternal home. Likewise, when sin ran rampant in the world of men during Noah's day, God "did not spare" them (except for a family of eight people). He submerged every other man, woman and child under the flood waters of His judgment. Total annihilation.
And it's that very same phrase which Paul chooses in Romans 8:32 to express the complete outpouring of God's wrath on Jesus on the Cross. He did not show any mercy because it was His beloved Son. He held nothing back. His full displeasure and hatred toward sin was exacted upon Jesus.
He punished Him as viciously as if He were the vilest of sinners.
He abandoned Him as completely as any wretch in hell will ever feel abandoned by God.
He ignored His cry as totally as you and I deserve to be ignored by God.
Think about it this way: A sinner in hell for all of eternity will never exhaust God's wrath, but for the Christian it was totally exhausted on Christ.
And so the prophet Isaiah wrote,
"Surely He has borne our griefs And carried our sorrows; Yet we esteemed Him stricken, Smitten by God, and afflicted … Yet it pleased the LORD to bruise Him; He has put Him to grief…" Isaiah 53:4, 10
Why did God do it? Because His divine holiness and justice demanded it. God cannot excuse sin. Ever. But …
"He shall see the labor of His soul, and be satisfied. By His knowledge My righteous Servant shall justify many, For He shall bear their iniquities." Isaiah 53:11
A.W.Tozer wrote,
"The atonement in Jesus Christ's blood is perfect; there isn't anything that can be added to it. It is spotless, impeccable, flawless. It is perfect as God is perfect."
To foolishly think that WE might still play some part in placating the just anger of God by any good works we might do is:
1. IMPOSSIBLE. Hell is eternal. At no point is God's anger ever abated by man paying off his debt.
2. OFFENSIVE. When He has given His Son to bare ALL of His wrath, for us then to seek to achieve this work on our own apart from Him, or to think we can even contribute something more to what He's already done, is the vilest affront to His wisdom and grace.