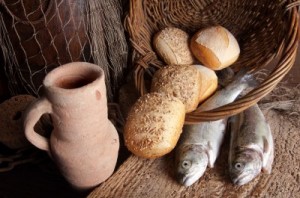 "Or what man is there among you who, if his son asks for bread, will give him a stone? Or if he asks for a fish, will he give him a serpent? If you then, being evil, know how to give good gifts to your children, how much more will your Father who is in heaven give GOOD things to those who ask Him!" (Matthew 7:9-11)
Did you take special notice of that underlined word? "Good!"
It doesn't say "nice" things.  That's our problem in this consumer-saturated marketplace of the western world we live in: we all want to have "nice" things. Furthermore, we want to have them now!  Young people get married these days and within weeks want to have all the stuff their parents have spent 30 years accumulating. That's created a real debt problem in our culture.
Whether or not we can afford them, and whether or not they are really important, we want "nice things".
But our heavenly Father doesn't promise us "nice" things; instead He never fails to give us "GOOD" things.  Things of real quality.  Truly beneficial things.  Things that last!
The picture Jesus uses here in these verses is of a child asking their earthly father for bread or fish. No decent parent will fail to provide nutritious food in response to that request. They certainly won't replace it with something harmful.
What if the thing I am asking God for in prayer is NOT "bread or fish"?  What if it's stones or serpents and I don't even realize it?  There are some fish that do bear a resemblance to a snake.  Some smooth stones can look a lot like a loaf of bread. What if we start confusing what we should desire with lesser things?  No loving parent will make that exchange just because we asked, or even nagged for it! And neither will our perfect Heavenly Father.
Bread speaks of what truly nourishes. Stones don't nourish, no matter how appetizing they may look (if you're really hungry).  Serpents speaks of what is harmful.  Instead of being satisfied, we may end up getting bitten.
And so Martyn Lloyd-Jones pointed out that if God does not grant something we've asked for, we should be profoundly grateful.
James 1:17 assures us that "Every good and perfect gift comes down from the Father of lights."
I think what John Stott wrote about these verses is very helpful. He said that when we're asking God for things we need to distinguish between "Creation-Gifts" and "Redemption-Gifts":
Creation-Gifts
As Creator, God bestows gifts on ALL.  Even unbelievers are provided for by God. There are the gifts of the harvest, babies, food, life.  Jesus said, "your Father in heaven … makes His sun rise on the evil and on the good, and sends rain on the just and on the unjust." (Matthew 5:4-5) He continuously provides for His creatures, but notice that it is primarily MATERIAL blessings that are in view.
But then there are:
Redemption-Gifts
As our Redeemer, when we are saved and come into the family relationship with God, He begins to bestow particular gifts upon us as we seek Him for them.  He bestows His riches upon "all who call upon Him" (Romans 10:12). It all begins with the gift of salvation: "Whoever calls upon the Name of the Lord shall be saved" (Acts 2:21, Romans 10:13). Then there are other gifts that follow as we continue to seek Him.
Notice that it is primarily SPIRITUAL blessings that are in view. Those who call upon the Lord in true God-given faith recognize that material blessings are essential, and God provides those, but they are also temporary. They are not the "riches" of God that the new man or woman in Christ has their heart set on anymore. Instead we are seeking such lasting things as daily forgiveness, deliverance from evil, peace, the increase of faith, hope and love, etc.  Things the world has no part in, cannot give, and cannot take away.
To put it bluntly, if you came to Christianity because you were sold the idea that it would bring you earthly wealth or success, you might as well leave now. The truth is that you have as much chance in the world by making sound business decisions and working hard every day.
But if you want eternal things – the immaterial riches of the Kingdom of God that last forever – you will never be satisfied with all that the world has to give. They do not have what your soul craves.
Your Heavenly Father does. The One who gives "GOOD" things to those who ask Him.
To paraphrase Matthew Henry: If all the compassions of all the tender fathers in the world were crowded into one, compared to the tender mercies of our God they would be like a candle compared with the sun, or a drop to the ocean.
[Adapted from part of the message "Ask, Seek, Knock!" preached on July 21st, 2013.  You can listen to the entire message on our Podcast.]