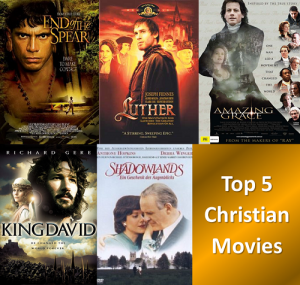 Here's my shortlist of inspirational Christian movies that everyone should watch.
You'll note that (a) they're all true stories, (b) that all but one are biographies of famous Christians, and (c) that only one is a story from the Bible. These are personal preferences, of course, and they reflect my love of church history.
I also just don't think there are many Christian fictional movies or Biblical adaptations that are good films. I must say that I've enjoyed the releases from Sherwood Pictures over the past few years ("Fireproof" and "Courageous" in particular). They've each had an important message. I hope the Kendrick Brothers continue to make many more.
But here are my top 5 (and I'd love to hear YOURS) …
The moving story of C.S. Lewis's relationship with American Poet Joy Davidman, whom he married and then lost to cancer. Lewis himself wrote about this period of his life in his book "A Grief Observed".
How could the film not be good with Richard Attenborough as the Director and the leads being played by Anthony Hopkins and Debra Winger. It was not a commercial success, despite being critically acclaimed and nominated for two Oscars, but it's well worth watching … especially for Lewis fans.
I'm usually not a fan of Biblical movies. On the whole they aren't very well made, and the inevitable inaccuracies owing to poetic license drive me nuts. King David is an exception. It comes across as a reasonably faithful attempt to convey the Biblical story, and it manages to achieve a realistic feel of the time period.
But again, it's the actors that really sell me on this movie. Richard Gere is okay as David, but Edward Woodward (as King Saul) and Dennis Quilley (as the prophet Samuel) are absolutely brilliant in their roles, and a joy to watch.
The story of William Wilberforce and the abolitionists who campaigned and finally managed to end the African slave trade in the British colonies in the early 1800's.
It's a powerful story, well told, and has the gospel beautifully, if subtly, woven through it. Albert Finney's vignettes of John Newton are wonderful. All the acting is superb. I love this movie!
Several movies have been made of the life of Martin Luther over the years, and I know that each has it's loyal following who think that their favorite is the best portrayal. But I personally love this most recent one starring Joseph Fiennes.
In terms of accuracy it could be argued that earlier versions were superior. In particular, the film overemphasizes Luther's personal involvement in the peasant uprisings of the time, and also does not pay enough attention to the seminal importance of the doctrine of justification by faith. Nevertheless it's a great and inspiring movie to watch … "Here I stand. I can do no other. God help me."
And #1 … (cue drumroll …)
I vividly remember when I was a teenager reading "Through Gates of Splendor", the story of missionary Jim Elliot and his four companions who were all killed on the banks of the Curaray River in Ecuador in 1956. The book left a mark on me like few others in my early years.
This movie is told from the combined perspective of the Waodani people who did the killing, and Steve Saint, son of Nate who was the pilot among the 5 missionaries killed. The story was covered by Time magazine and all the major newspapers of the world in 1956, but this film succeeds in bringing a whole new understanding to what actually happened. It is a remarkable story of redemption. The ending is absolutely thrilling.
Without a doubt, "End of the Spear" is one of my favorite movies of all time … any genre. If you haven't seen it you must!
What are YOUR favorite inspirational Christian movies? Leave a comment and let us know!