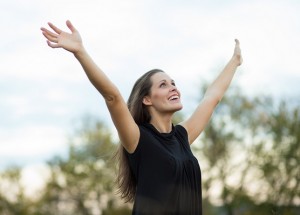 "God be merciful to us and bless us,And cause His face to shine upon us. Selah." (Psalm 67:1)
The writer of this Psalm is after something.  Something that to him is worth more than anything else he could sing or write songs about. More than money, or fame, or power, or even any human relationship, this man wants the blessing of God.
What does that mean? … "The blessing of God". What IS a blessing? What does it mean "to bless" or "to BE blessed"?
The Hebrew word is bawrak. It's a very significant Bible word. It appears 331 times in the Old Testament. It literally means "to cause to kneel". The picture that the word bawrak conveys is of a king or a sovereign commanding you to kneel before them in order to receive something from them. Perhaps they're going to confer on you a title or an authority, or give you some gift. And implicit in the word bawrak is the idea of "favor".  That the one blessing you is pleased with you. You have their favor.
So, the Psalmist sings, "God be merciful to us and bless us ("bawrak us"), and cause His face to shine upon us."  That is, give us His favor; the smile of His face.
The most wonderful thing you could possibly have for yourself, for your household, for your spouse and your children, as you go into this new year of 2014, is the blessing of God. To have Him looking on you condoningly; strengthening all that you do.
"The blessing of the LORD makes one rich, And He adds no sorrow with it." (Proverbs 10:22)

Imagine the next 365 days, having the hand of God upon your life. Guiding, empowering, helping. His presence with you. His love upon you. His shield in front of you, and behind you. His angels sent as ministers to help you.
"If God be for us, who (could possibly) be against us?" (Romans 8:31)
Now, you might think that this blessing of God must be an illusive thing – if it's so precious, then like all precious things it must  be hard to find, hard to get.
But, no! Listen. God WANTS to bless.
God's Blessing Is Not Illusive
We see this in the very first chapter of the Bible – Genesis 1.  Look at what it says about God's blessing when He was laying the very foundations of the world:
Verse 22. (On the 5th day of creation, when God made birds and sea creatures) …
"and God blessed them saying, Be fruitful, and multiply, and fill the waters in the seas, and let birds multiply on the earth."
Verse 28. (On the 6th day of creation, when God made man) …
"And God blessed them, and God said to them, Be fruitful, and multiply, fill the earth, and subdue it: have dominion over the fish of the sea, and over the birds of the air, and over every living thing that moves on the earth."
What had the birds, or the fish, or Adam and Eve done to deserve God's blessing? Nothing! But at their very creation, before they'd done anything that could please God, He commanded His blessing over them. That is the heart of God – to bless, to approve, to condone, to love, to watch over, to care for.  The world of Genesis chapter 1, in the perfection in which God had created it, was a place of unmitigated blessing. The entrance of sin ruined that. And God's smile was turned away – in the place of blessing, there entered in a curse upon the whole earth.
Thank God, one day very soon, He's going to restore all things once again to that blessed state of Eden. Heaven and the new earth that God has promised He is going to re-create are places where everyone and everything has God's blessing upon it again. And that is nothing other than God's original design – in accord with His heart. God desires to bless.
And hasn't He demonstrated this amazingly? He gave His only Son, to pay the price for our sins, so that He could bring us back to Himself – back under His hand of blessing again. And from the moment we receive Christ as our Savior, God's wrath is turned away from us – His smile is back – His hand is restored to us.
The apostle Paul says:
"Blessed be the God and Father of our Lord Jesus Christ, who has blessed us with every spiritual blessing in the heavenly places in Christ." (Ephesians 1:3)

"He who did not spare His own Son, but delivered Him up for us all, how shall He not with Him also freely give us all things?" (Romans 8:32)
So, God is not of a mind to withhold His blessing from us. It is not something we should think of as an illusive thing, that God only bestows upon some extraordinary people. On the contrary, He has already blessed us in Christ, and it's His desire to continue to bless us in every path that we tread. To be with us and for us, endorsing our lives with the fragrance of His Presence.
Now, I need to pause here with …
A word of caution
Some people might think to themselves, "That's right. God IS blessing me. He must be with me, I must have His favor, because look at how I'm prospering financially. My business is booming, my investments are growing strongly. Look at my bank accounts – look at my lifestyle – God must be with me."
Be very careful, friend, because that whole line of thinking is fundamentally flawed. Those things are not necessarily any sign of God's blessing at all, and that can be shown very easily. Jesus said that God's material providence is shown to all – "the just and the unjust" (Matthew 5:45). Just think of the billionaires in history who've had no interest in the things of God whatsoever. Some of them self-confessed atheists – some mocking God openly – some living in all kinds of sin – yet they have prospered financially. Clearly that is not necessarily any sign of God's blessing.
Do you know what God thinks of this world's gold?  In Heaven He paves the roads with it. It's like asphalt to Him – trample it under foot – it's worthless "roadfill" in Heaven.
When we say that the greatest thing in life is to have the blessing of God, don't think mere money or possessions. We're talking about far weightier, far better stuff than that:
intimate friendship with the God who made Heaven and earth;
the Presence of that God at your side in the midst of everything life can throw at you;
a peace that passes all human understanding guarding your heart so that you can laugh at the storm;
His hand upon you so that every time life buries you, you just keep rising through to the top again;
the joy of the Lord in your life that is so real and so attractive that your kids (and your grandkids) never want to walk away from it, because they know it's the only life worth living;
the favor of God that opens doors for you so that you can win souls and advance God's eternal purpose;
victory over sin and the devil, and every habit that you hate that would bind you in chains;
the power to accomplish every good work that God put you here on earth to do;
knowing without the shadow of a doubt that all things are working together for your ultimate good, because you are called according to His purpose;
a life without fear, because you feel yourself in the palm of His mighty hand, and nothing can touch you there unless He says so;
a crown that He will give you on that day, and not to you only but all them that have loved His appearing – a crown that will never perish, along with an eternal home.
These things are the blessing of God, and they're the inheritance of every believer.
BUT – it's possible to live in such a way that God CANNOT give you His blessing.  Why?
… We'll deal with that in Part 2