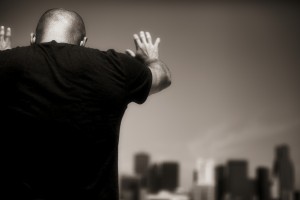 "God be merciful to us and bless us, And cause His face to shine upon us. Selah." (Psalm 67:1)
In Part 1, we saw that the writer of this Psalm is after something.  Above anything else he could wish for, this man wants the blessing of God.
And we noted that God wants to bless. It's His very nature to bless, and that should encourage us greatly.
But having said that we must hurry to point out that we must never presume on God's blessing; it is not automatic.
God's Blessing Must Be Desired
You've got to SEEK the blessing of God on your life every day.  And there are two striking stories in the Bible that illustrate this for us. Two men who wanted God's blessing, and they sought Him for it. And despite very rough starts in life, God answered both their cries, and they lived under His amazing hand of blessing:
The first is found in Genesis 32.  It's the story of Jacob, the youngest born of twin brothers. By longstanding tradition, the eldest son in the family was the one to receive the blessing of his father as the head of the family to carry things on.  So by a simple accident of poor timing, Jacob was relegated to playing second fiddle to his twin brother, Esau.
Jacob grew up bitter over that. He really wanted the position of family elder – he wanted the birthright blessing – and his brother, Esau, didn't seem to care two hoots about it.  He was more interested in hunting, than taking any kind of responsibility in the family.
Even worst than that, to make it unbearable for Jacob, he knew that God had spoken to his mother that, in spite of all the strong tradition of the eldest son ruling the family, in the case of Jacob and Esau Jacob would be the leader. Jacob knew this, but it looked as though Esau was going to receive the birthright from their father anyway.
So, Jacob decided to take matters into his own hands.  He got Esau to "sell" him the birthright for the price of some stew.  Then, he deceived his own father on his death bed.
He was a deceiver! God can't honor deceit. But under it all Jacob had a hunger for God.  Somewhere in the deep recesses of his heart, there was a yearning that God had put there for the blessing. Not just the family birthright, but the very blessing of God. He wanted to be the one that would carry on in the steps of Abraham and Isaac; as God had promised he would be.
One dark night, at a place called Peniel, in a crisis moment, Jacob wrestled with God for himself.  He did not rely on the experience with God that his grandfather had known, nor that his father had known – he wasn't even content to say that he was the one his father had laid hands on – NO, he went after his own experience with God, and he broke through!
And he arose that night and took his two wives, his two female servants, and his eleven sons, and crossed over the ford of Jabbok. He took them, sent them over the brook, and sent over what he had. Then Jacob was left alone; and a Man wrestled with him until the breaking of day.  Now when He saw that He did not prevail against him, He touched the socket of his hip; and the socket of Jacob's hip was out of joint as He wrestled with him. And He said, "Let Me go, for the day breaks." But he said, "I will not let You go unless You bless me!" So He said to him, "What is your name?" He said, "Jacob." And He said, "Your name shall no longer be called Jacob, but Israel; for you have struggled with God and with men, and have prevailed." Then Jacob asked, saying, "Tell me Your name, I pray." And He said, "Why is it that you ask about My name?" And He blessed him there.  (Genesis 32:22-29)
That night, Jacob took hold of the blessing of God to own it for himself.  From that time on, the LORD declares Himself to be "… the God of Abraham, the God of Isaac, AND THE GOD OF JACOB".
You've got to desire the blessing of God.
The second story is found in 1 Chronicles 4. It's the story of a man called Jabez. The name Jabez means "pain". I don't know why that was his name – maybe his mother had a hard time in the delivery, or maybe he was born at a "painful" time in the life of the family.  But imagine growing up with that as your name! Imagine every time someone called you, they referred to you as a pain.  That's enough to ruin anyone's self-image, isn't it?
But something very special is recorded about this man in the Bible. In a whole long list of "begats" in this chapter, the writer of 1 Chronicles pauses to mention him. He stood out from the crowd. The Bible says "he was more honorable than his brothers".  It doesn't even tell us what he did.  All we know is that after a rough start in life (being labeled a "pain"), he prayed a prayer …
And Jabez called on the God of Israel saying, "Oh, that You would bless me indeed, and enlarge my territory, that Your hand would be with me, and that You would keep me from evil, that I may not cause pain!" So God granted him what he requested.   (1 Chronicles 4:10)
Hear his prayer?  "Oh, that you would bless me indeed."  He had a hunger for the blessing of God.  For the Presence of God in his life in favor.
It's been suggested that God did all this for Jabez on the basis of one little prayer one day. It's also been suggested that God may do the same for you if you just repeat it, if you just repeat that prayer each morning.  Surely there's more to it than that. I don't think the Bible presents us with a rote prayer here at all, but rather it shows us a man who desperately wanted God for Himself. Who knows how many times he prayed, or how many tears he shed. In the end, however, he secured God's blessing and his life was never the same again. "And God granted His request." It was such a remarkable transformation that he got himself mentioned in the Bible.
God is ready and willing to bless you – but you've got to desire the blessing of God.
Stay tuned for Part 3